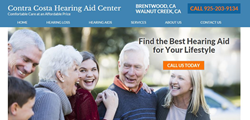 Brentwood, CA (PRWEB) October 06, 2015
Contra Costa Hearing Aid Center, in an effort to help people get the most out of their hearing appointments, has released a comprehensive list of questions for each patient to go over with their hearing specialist.
When preparing for a major purchase decision, such as the purchase of a new car, it's wise to develop a list of questions to be addressed prior to committing to the sale. But when it comes to purchasing hearing aids—probably due to unfamiliarity with the process—many people fail to complete this step.
According to Contra Costa Hearing Aid Center, this is a mistake. Every patient should know which questions to ask their hearing specialist—that way, the patient can ensure that everything is covered and that they get the hearing solution that is best for them.
To help their patients in this regard, Contra Costa Hearing Aid Center recently published an article titled Questions to Ask Your Hearing Specialist Before You Buy Hearing Aids, which lists 35 questions that the patient will want to consider. The questions address several topics including the types of hearing loss, hearing aid styles and features, hearing aid prices, warranties, and trial periods, financing, and hearing aid operation, care, and maintenance.
Patients should know what type of hearing loss they have, if they need one or two hearing aids, which hearing aid features they may need and which they won't, if financing is available, the length of the trial period, and how to care for and clean the hearing aids, among many other topics.
There is a lot of information to cover, but a qualified hearing specialist should be able to answer all of the questions in the process of guiding each patient towards their optimal hearing solution. According to Contra Costa Hearing Aid Center, a person's hearing is too important to leave entirely in any one person's hands, and that each patient should take the responsibility to ensure that all bases are covered.
Additional information on hearing tests, hearing loss, and hearing aids can be found at Contra Costa Hearing Aid Center's website at http://www.contracostahearing.com.
About Contra Costa Hearing Aid Center
Contra Costa Hearing Aid Center takes a consultative approach to hearing health care with an emphasis on patient education. In addition to providing hearing tests and fitting hearing aids in Walnut Creek CA, the staff provides support, counseling, advice, and rehabilitation.
Contact:
Toby S. Hill
Contra Costa Hearing Aid Center
http://www.contracostahearing.com