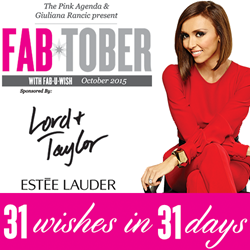 "I know from my own personal experience that a little bit of fabulous can go a long way, and I'm thrilled to indulge 31 worthy women with the pampering they deserve." - Giuliana Rancic
New York, NY (PRWEB) October 05, 2015
The Pink Agenda and Giuliana Rancic's FAB-U-WISH have launched FABtober, a campaign to help young women fighting breast cancer feel wonderful while also raising money and awareness for breast cancer research. Each day in October, FAB-U-WISH will announce one lucky woman who will be the recipient of a glamorous Estée Lauder makeover experience at her local Lord & Taylor store; granting a total of 31 wishes throughout Breast Cancer Awareness Month. Funds raised through the FABtober campaign will help grant wishes year-round as well as support the lifesaving research needed to fulfill the ultimate wish – finding a cure for breast cancer.
"More young women are being diagnosed with breast cancer than ever before, and these women often face more aggressive cancers and lower survival rates than older women," said Lucretia Gilbert, Executive Director of The Pink Agenda. "FABtober is a way for us to bring attention and critical funds to this issue while celebrating and caring for young women."
FAB-U-WISH and FABtober are inspired by Rancic's own experiences while battling breast cancer. Her work in the entertainment industry required a certain Hollywood regimen — hair, makeup and glamorous clothing — that helped keep her spirits high. "I know from my own personal experience that a little bit of fabulous can go a long way, and I'm thrilled to indulge 31 worthy women with the pampering they deserve" said Rancic. "Fundraising through FABtober will help us make these 31 wishes – and our ultimate wish for a cure – a reality."
"Lord & Taylor is proud to promote breast cancer awareness this October with The Pink Agenda and FAB-U-WISH," said Shelley Rozenwald, SVP of Cosmetics for Lord & Taylor and Hudson's Bay. "We've made supporting cancer research a priority and look forward to the positive impact we can have on women facing this disease."
The Pink Agenda, a New York City-based nonprofit comprised of young professionals devoted to fighting breast cancer, partnered in August of 2014 with Giuliana Rancic's FAB-U-WISH. FAB-U-WISH grants wishes to young women facing breast cancer and, together with The Pink Agenda, has granted more than 50 wishes nationwide. The Pink Agenda and FAB-U-WISH are now accepting FABtober applications and announcing winners daily via social media using the hashtag #FABtober. For more information, visit http://www.thepinkagenda.org, and to make a donation visit http://bit.ly/givefabtober.
About The Pink Agenda
The Pink Agenda believes that engaging today's generation can go a long way toward finding tomorrow's cure to breast cancer. That's why The Pink Agenda, together with its partner the Breast Cancer Research Foundation, is working with the next generation of leaders to find and fund programs that are improving the lives of those suffering from breast cancer and conducting the groundbreaking research necessary to improve their odds. The Pink Agenda, a non-profit 501(c)(3) organization that was launched in 2007, has contributed more than $1 million to breast cancer research and care. In 2014 The Pink Agenda partnered with breast cancer survivor and television personality Giuliana Rancic and her initiative FAB-U-WISH. Together, Giuliana Rancic's FAB-U-WISH and The Pink Agenda grant the most fabulous wishes to young women undergoing treatment for this devastating disease.
About Lord & Taylor
Founded in 1826, Lord & Taylor is the oldest department store in the United States and one of the country's premier retailers. It has built its reputation on offering high-quality fashion apparel and accessories, exciting store environments, and seamless service. Lord & Taylor operates 50 full-line locations primarily in the northeastern and mid-Atlantic U.S., four outlet locations, and lordandtaylor.com. It is part of the Hudson's Bay Company brand portfolio.