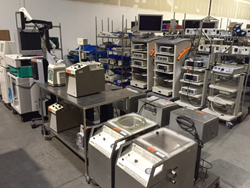 North Las Vegas, Nevada (PRWEB) October 05, 2015
Centurion Service Group, the world's largest medical equipment auction house, will be selling over 1,000 pieces of medical equipment via live auction. Various types of equipment will be sold including radiology, lab, anesthesia, endoscopy, cardiology, and more.
The live auction will take place Tuesday, October 6th starting at 9am PDT. The equipment is at their Las Vegas warehouse located at 4606 Andrews Street, Suite 3 North Las Vegas, NV 89081. Anyone can participate in the auction including those who cannot make it on site. Centurion Service Group offers online simulcast bidding, as well as theater style bidding. Registration information and the complete list of medical equipment can be found on their website http://www.centurionservice.com.
A few highlights of the sale are: a GE OE 9800 C-Arm, a Zeiss Visulas Yag II Plus Ophthalmic Surgical Laser System, aBennett MF-150G Mammography System, Pedigo 540 Stretchers, a Midmark 405 Power Exam Chair, a Viasys Infant Flow Sipap Machine, a Skytron 6002 OR Table, Smith & Nephew 560H Camera Heads, Datascope AS3000 Anesthesia Machines, a Quinton Q Stress TM 55 Treadmill and much more!
About Centurion Service Group, LLC
Centurion Service Group is the world's largest medical equipment auction house. Every month over 7,000 lots of unique and diverse medical equipment are sold in their Chicago, Las Vegas and Fort Lauderdale auctions making them a one-stop shop for all medical equipment buyers. With a continuous turnover of medical equipment coming from hospitals, surgery centers, and other healthcare facilities from around the United States their inventory is constantly changing. All auctions are simulcast online so that buyers from around the world can participate, and for a more personal experience buyers can inspect the equipment and participate in the auctions on-site. Centurion Service Group also has timed auctions to sell installed radiology and other high-valued medical equipment.