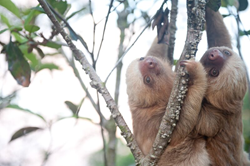 Quepos/Manuel Antonio, COSTA RICA (PRWEB) October 07, 2015
Sloths are being reintroduced into the Costa Rican rain forest thanks to a unique partnership between Buena Vista Luxury Villas (BVLV) and The Sloth Institute of Costa Rica (TSI).
The first phase of the partnership will reintroduce sloths - orphaned and hand raised - back into the rainforest of the maritime zone adjoining Tulemar, a 33-acre development community in the Quepos/Manuel Antonio area of Costa Rica.
"Tulemar and the maritime zone offer the perfect environment to introduce our first two sloths, Ellen and Kermie, back to their rain forest roots where they belong," said Seda Sejud, co-founder and Chief Sloth Volunteer of TSI.
"The absence of dangerous wires, a strict 'no dogs and cats' policy, and the landowner's commitment to dedicate this land for the preservation of the sloths make this is the perfect place for such an endeavor."
Thomas Paul, President of Buena Vista Luxury Villas, said his organization and the Board of Directors of Tulemar couldn't be more pleased to participate in such a worthy cause.
Mr. Paul explained a key hurdle was crossed with the MINAE, (the governmental agency responsible for the maritime zone and wildlife) when it granted approval for the use of the maritime property in a way that helps contribute to the conservation of the sloth population in Costa Rica.
Ms. Sejud further commented that the resort sits in a large parcel of jungle including the adjacent maritime zone containing an abundant source of excellent food choices, so it's a natural transition for the animals.
Ellen and Kermie
The sloth duo were hand raised at Kids Saving the Rainforest. They began their re-entry into the wild in a specially designed 6 X 6 X 6 meter, non-permanent, soft release cage built to encompass a variety of their favorite edible trees and vines so that they could gradually acclimate to their new environment before the cage doors are opened. The cage was built in a secluded section of the maritime zone where humans are not allowed.
Fitted with custom VHF collars, once released, TSI's volunteer research staff will be continually tracking the duo over the course of one to two years to study their progress, while simultaneously tracking and studying wild sloths in the Tulemar area.
Guest Programs at Buena Vista Luxury Villas
In a short guided walk, TSI researchers will introduce guests at Buena Vista Luxury Villas, as well as the public, to the wildlife of Tulemar: exotic birds, monkeys, and of course, sloths. The walk will take participants across the entire 33 acre jungle of Tulemar passing through roads and trails, and ending up at the beach. All proceeds from the walk help support TSI at http://www.theslothinstitutecostarica.org.
For more Information:
Chris Paul
Guest Relations Manager
Buena Vista Luxury Villas
Quepos/Manuel Antonio, Costa Rica
Phone: 860-619-8006 (US)
E-Mail: reservations(at)buenavistaluxuryvillas(dot)com
Web: http://www.buenavistaluxuryvillas.com/contact-us/
Additional Information: