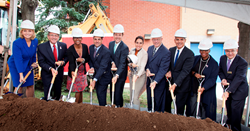 These collaborations bring novel ideas, different perspectives and opportunities for debate that are a highly significant part of the process
Newark, NJ (PRWEB) October 02, 2015
An enthusiastic gathering of state elected officials, industry scientists and NJIT faculty, students, administrators and alumni, undaunted by clouds overhead and reports of an approaching hurricane, joined together Thursday to break ground on NJIT's newest academic building, a $19 million state-of-the-art life sciences and engineering facility focused on the future of health care.
"I am thrilled to usher in this new academic facility that soon will be a core and connective resource for our faculty and students working in some of the most promising and exciting areas of our time," said NJIT Provost Fadi Deek, as he greeted the more than 100 participants and guests at the construction site on Summit Street.
The four-story facility, which will house 24,500 square feet of shared laboratories and meeting spaces, IT infrastructure and cutting-edge scientific instrumentation, is designed to promote collaboration in fields ranging from biomedical engineering and the biological sciences to electrical engineering and healthcare technologies.
Its mission is to build on NJIT's increasingly transdisciplinary strengths in engineering and the life sciences – with a particular focus on biotechnology, biosensors and medical devices and nanotechnology – toward the development of new applications in clinical healthcare, therapeutic interventions and pharmaceutical drug development. By linking the experimental side of research with powerful computation, NJIT and its partners will be able to feed data generated in the university's laboratories into computer models and simulations that will, for example, be able to forecast molecular, cellular and tissue behavior for clinical applications.
Donald Kyle, the vice president of discovery research and non-clinical sciences at Purdue Pharma and chair of NJIT's Life Sciences and Engineering Advisory Board, applauded the emphasis on interdisciplinary research in the new building. He stressed its value in his own career in the pharmaceutical industry, where the "phenomenally complicated" process of shepherding ideas into commercial products required the joint efforts of scientists and engineers, among many partners from diverse disciplines.
"These collaborations bring novel ideas, different perspectives and opportunities for debate that are a highly significant part of the process," said Kyle, a noted expert in pain research who said the exposure to fields outside of his own had led to innovations that were "more sophisticated and real-world ready."
Indeed, Pamela Hitscherich, a Ph.D. student in biomedical engineering, called collaboration essential preparation for the working world Kyle described and critical to her success as a researcher so far.
"By bringing together researchers and resources from so many different disciplines, I know that the Life Sciences and Engineering Building will spark creative new collaborations that open up unexpected avenues for success. One of the great features of open labs is how well they promote teaching, learning and discussion – and not just from the top down," said Hitscherich. "By talking to each other, we will learn about each other's research and open ourselves up to discussion, debate and fresh new perspectives. Great ideas often begin with a conversation – and an open mind."
NJIT President Joel Bloom noted that the new facility, slated for completion in 2016, is part of an ongoing, $300 million capital building and renovation program that is transforming research, teaching and campus life at NJIT. The construction on campus reflects the growth in the student body, which now tops 11,000, as well as the expansion of the university's research enterprise, including the addition of about 70 new faculty members and 30 university lecturers – many of them in the life sciences and biomedical engineering – over the past four years.
Bloom thanked the many New Jersey elected officials attending the ceremony for their support for the Building Our Future Bond Act, passed by legislators and approved by voters in 2012, which brings substantial new funding for capital facilities on college and university campuses. A substantial portion of the funding for NJIT's life sciences and engineering building - $13.5 million - comes from the bond.
"New Jersey has more scientists and engineers per square mile than anywhere else in the world and we aim to keep it this way," noted Lt. Gov. Kim Guadagno. "That's what the bond act will do and what your building here will do."
"I know that you will fill this building with great researchers, professors and students who will be at the forefront of lowering health care costs in the country," said Paul Sarlo, '92, '95, the state Senate deputy majority leader.
Vincent DeCaprio, '72, vice chair of the NJIT Board of Trustees, called the launch of the new building "the culmination of a vision for me personally that began 40 years ago when I was an undergraduate and took an Introduction to Biomedical Engineering course that made all the difference in the world."
The new building, he said, cements New Jersey's place in the new millennium, "which I see as the millennium of the life sciences."