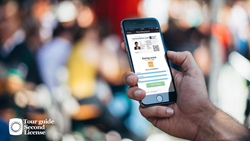 New York, NY (PRWEB) October 07, 2015
TSL has found a new method for tourists to reduce risks of meeting fraudulent tour guides attempting to make a quick buck with QR code technology.
TSL is a secondary license a tour guide receives for specialization in another country. The added qualifications make the tours more detailed and professional. They also help the guide get exposed to a new culture.
Each TSL qualified tour guide is issued a license card to show their competence during tours. This not only ensures that the guide is professional but that travelers are assured of whoever is taking them around. The cards have all the details of the TSL tour guide such as name, local government issued tour guide license number, area of specialization and a QR code.
The QR code technology offers a link between print technology and the internet. There is no need to type in the review website's URL and search for the guide. All that needs to be done is a scan of the code. The QR cryptogram will only direct to reviews of the specific TSL tour guide. Although identification cards may be helpful, one can never be sure of a card's legitimacy. A quick scan of a QR code can minimize the chances of accessing falsified information as well.
Travelers are constantly on the move, and it can be quite difficult to sit down and look through a computer for a competent guide. Visitors can instantly view a TSL tour guide reviews on the website and see what other tourists have said about them. Such a tool will help in making a conscious decision on how much of a fit a guide would be. The reviews give a clear definition of the guide's professionalism, character and knowledge. From the unbiased information, tourists can depict what to expect from the whole experience. After a tour is completed, tourists can also leave their tour guide a review to help others find the right fit for their expedition.
Reputation is everything in the tour guide industry. Tour guides must deliver their best services to maintain amazing reviews and ratings. They understand that the better the reviews, the more clients they receive through referrals and recommendations.
Therefore, TSL tour guides must maintain a highly professional demeanor and focus on the details of their work. In the end, tourists are at liberty to reward them with excellent reviews and ratings. This system makes them constantly aware of their performance and the valuable feedback will help improve their skills.
The Tour Guide Second License Organization was established in New York City in 2010. The organization strives to improve and strengthen the tourism industry.