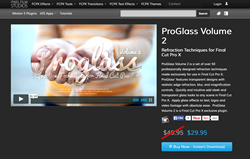 This plugin has so many great features for FCPX Users.
(PRWEB) October 02, 2015
ProGlass Volume 2 is a set of over 50 professionally designed refraction techniques made exclusively for use in Final Cut Pro X. ProGlass' features transparent designs with realistic edge refraction, blur, and magnification controls. Quickly and intuitive add sleek and transparent glass looks to any scene in Final Cut Pro X. Apply glass effects to text, logos and video footage with absolute ease. ProGlass Volume 2 is a Final Cut Pro X exclusive plugin.
ProGlass Volume 2 features glass shape, pattern, logo, and text presets. Choose from basic shapes such as circles & rectangles, to kinetic patterns circular patterns with self-animating effects. With ProGlass Volume 2's text & logo presets, users can instantly add a beautiful transparent style to any personal media.
ProGlass Volume 2 features realistic glass refraction techniques. Freely adjust magnification, edge distortion, and blur within any ProGlass preset. For a glossier look, increase the edge refraction & edge softness sliders. For a shinier look, manipulate the reflection amount, falloff, and position.
ProGlass Volume 2 presets are completely self-animating. Each singular shape preset includes optional intro and outro animations as well as a constant animation that may also be muted. Additionally, patterned presets feature advanced animation origin controls and a custom animation spread slider. Logo & text presets can be scaled in or positioned in without the use of keyframes.
In addition to intuitive parameter controls, Final Cut Pro X users can manipulate the scale, position, and rotation of any ProGlass Volume 2 preset with the help of intuitive on-screen controls. Simply click on the title in the FCPX timeline to activate the controls and adjust title presets freely.
Stack ProGlass title layers infinitely to create new effects. Each additional glass layer feeds off of the content below to create refraction upon refraction. Combine glass shapes, patterns, text, and logos to create almost any look in Final Cut Pro X.
Established in 2006, Aliso Viejo, California-based Pixel Film Studios is an innovative developer of visual effects tools for the post-production and broadcast community. Their products are integrated with popular non-linear editing and compositing products from Apple FCPX. Apple, the Apple logo, Mac OS X, and Macintosh are registered trademarks of Apple Inc. in the U.S. and/or other countries. All other trademarks and trade names are the property of their respective owners.