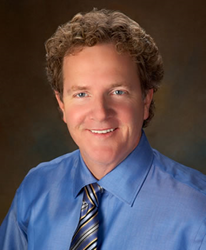 St. Petersburg, FL (PRWEB) October 05, 2015
Patients with bleeding gums and other signs of gum disease are urged to celebrate Dental Hygiene Month by receiving laser dentistry in St. Petersburg, FL, from Dr. Bruce Crawford. Laser-based treatment options can help restore the health of the mouth without being overly invasive or causing significant pain to the patient. The LANAP® protocol is cleared by the FDA, utilized to remove infected gum tissue with minimal pain and bleeding.
Dr. Crawford is proud to honor Dental Hygiene Month by offering the LANAP® protocol as a treatment method, for those who are interested in receiving laser dentistry in St. Petersburg, FL. Laser-based treatments are becoming more prevalent for those suffering with gum disease due to the speed, effectiveness, and minimally invasive nature of the procedure. When the LANAP® protocol is utilized to treat inflamed oral tissue, patients are exposed to minimal pain and bleeding when compared to other commonly-practiced treatment options, which typically utilize scalpels as the primary method for removing diseased tissue. Dental professionals who remove periodontal disease with scalpels rely primarily on their eyesight, which may not be able to easily distinguish between healthy tissue and diseased tissue. As a result, healthy tissue may be removed unnecessarily during the treatment process.
The LANAP® protocol minimizes this concern by targeting diseased tissue with precise accuracy. Once the targeted area has been identified, the laser is programmed to remove the infected tissue, without causing damage to adjacent healthy structures in the mouth. The accuracy of the laser makes it possible for the patient to retain as much of their healthy gum tissue as possible. The entire procedure is fairly quick when compared to scalpel-based methods, allowing for minimal recovery time. Patients can receive treatment and may resume their normal activities shortly following the procedure. Those who do not have the option of taking multiple days off for recovery, following periodontal disease treatment, may be more attracted to the LANAP® protocol due to its rapid treatment and recovery times.
Dr. Crawford extends an invitation to all patients with gum disease, to improve their oral health during Dental Hygiene Month, by receiving laser dentistry in St. Petersburg, FL from his practice.
About The Doctor
Dr. Bruce M. Crawford is a periodontist in St. Petersburg, FL, serving as a specialist for more than 20 years. Dr. Crawford not only specializes in treating gum disease and dental implants, he has also served a clinical professor at the University of Florida for more than 15 years. He believes having a healthy mouth leads to a healthy life, and enjoys helping his patients regain their confidence through improved health. To learn more about the dental services Dr. Crawford offers please visit his website at http://www.brucecrawford.com or call (727) 231-5908.