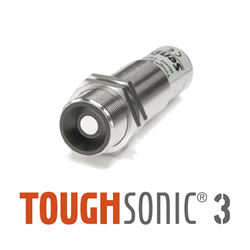 as demand for our products has grown, so has the demand for a speciality sensor like the ToughSonic 3
Hinesburg, Vermont (PRWEB) October 05, 2015
The ToughSonic 3 measures as close as 1.75 inches (4.5 cm), has an optimum range of 2 feet (61 cm) and a maximum range of 3 feet (91 cm). Like all ToughSonic sensors, the ToughSonic 3 is completely user-configurable to meet a variety of interface and performance requirements using SenixVIEW configuration and analysis software (included). It also features the popular Senix "Teach" function for push-button sensor adjustment without a computer.
Designed for rugged industrial applications, the ToughSonic 3 is packaged in the same 30 mm threaded 316 stainless steel housing as our popular ToughSonic 14. It is fully potted with a 6-ft pigtail cable, IP68 ingress protected, and interface reverse polarity protected. Interfaces are software selected and configured, and include any two of voltage, current loop, or switches, plus Modbus serial data – all in one small package. All ToughSonic products can be networked and/or configured in multi-sensor groups to avoid cross-talk or connect with data systems such as RTUs, PLCs and computers.
"We've manufactured products like the ToughSonic 3 for special applications for several years," said Doug Boehm, founder and CTO, Senix Corporation, "but as demand for our products has grown, so has the demand for a specialty sensor like the ToughSonic 3. For example, some customers measure liquid level in small vessels where a full tank results in the liquid being only a couple of inches from the sensor face. And some of our high-end machine builders need this sensor to detect targets in confined areas where a wider ultrasonic beam would detect adjacent objects rather than the intended target. The ToughSonic 14 is still the sensor of choice for most short range applications, but the ToughSonic 3 provides a solution for specialty applications like these."
Information and specifications on the ToughSonic 3 ultrasonic sensor are available on Senix's website at http://Senix.com.
About Senix Corporation
Senix designs and manufactures advanced ultrasonic sensors for liquid level measurement, distance ranging and object detection. Senix ToughSonic® sensors are used in a wide range of automation and research applications worldwide. The company transformed non-contact distance measurement in 1990 with the world's first user-configurable ultrasonic sensor and has been pushing the boundaries of sensor intelligence and ruggedness ever since. Senix Corporation is a privately held company located in Hinesburg, VT, USA.