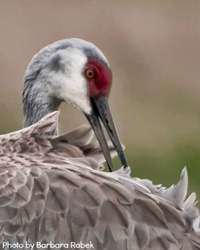 Galveston Island, TX (PRWEB) October 06, 2015
As Sandhill Cranes begin to arrive on Galveston Island to roost and forage later this month, the Galveston Island Nature Tourism Council opens registration for Holiday with the Cranes, Dec. 11 – 13, 2015.
Holiday with the Cranes is a new island experience that offers nature enthusiasts a unique opportunity to spend a weekend observing and celebrating the flocks of Sandhill Cranes that migrate through Galveston each winter. Events include indoor and outdoor nature activities and presentations, combined with the arts and ambiance of historical Galveston Island.
The impressive three-to-four-foot tall Sandhill Cranes, known for their size and the bright red cap atop their heads, arrive in Galveston late October and depart late February through early March. Last December, almost 230 cranes were counted on the island. There are 15 species of cranes around the world and only two are found in North America, the Whooping Crane, which is endangered, and the most abundant, the Sandhill Crane.
Holiday with the Cranes provides opportunities for Gulf Coast winter birding, educational and entertaining learning, outdoor adventure, cocktails and conversation, celebration of art and volunteering. Events include:
Friday, Dec. 11, 2015

A Crane Affaire is the opening celebration of Art on the Wing Juried Affaire, a new juried art exhibition of birding paintings, drawings, photography, 2D mixed media and sculptures at the Affaire d'Art Fine Art Gallery. The show's "Best of Crane" winner will be announced and 1st, 2nd and 3rd place and Honorable Mention winners will be recognized, all amidst Galveston's Historic Downtown District holiday glow.
Saturday, Dec. 12, 2015

Coffee & Cranes with Keanna Leonard, Education Director of the Iain Nicolson Audubon Center at Rowe Sanctuary, includes a lively educational presentation, "The Insights into the Private Lives of Sandhill Cranes," and a self-driving tour to crane hotspots to see Sandhills as they forage and play. Viewing areas will be outfitted with spotting scopes, and local experts will be on hand to assist and answer questions.
Wild Winter Birds of the East End Lagoon is an adventurous birding tour to a diverse habitat to see birds other than just cranes that make Galveston their home in the winter months. The caravan will drive the loop roads and beach area around the East End Lagoon Nature Park and Preserve, East End Seawall Blvd., Boddecker Dr. and Apffel Park. Local avian experts will meet participants on site and guide this ride/easy walk adventure designed for birders of all skill levels.
Sandhills at Sunset is an evening of crane conversation, cocktails and canapes in a private home on the edge of the West Galveston Island Coastal Heritage Preserve overlooking Galveston Bay. Join Keanna Leonard for an intimate presentation about the cultural and historical significance of cranes, plus a stunning sunset and bird's-eye view of the bay and West End wetlands and wildlife. This is limited to 20 people and includes complimentary admission to the Dawn Patrol event on Sunday, Dec. 13.
Sunday, Dec. 13, 2015

Dawn Patrol is a one-of-a-kind opportunity to see breathtaking views of cranes in flight as they awaken and leave their roosting grounds at sunrise. This experience, at an undisclosed location on the West End of Galveston Island, will be complete with a symphony of trumpeting crane calls and the drumbeat of hundreds of flapping wings overhead.
Coffee & Cranes with Keanna Leonard is offered both Saturday and Sunday mornings to accommodate busy schedules; the presentations are identical. Young birders in grades 6 – 12 receive a discounted ticket price on Sunday as part of the Nature Tourism Council's Student Incentive Program.
Every Crane Counts Sandhill Service Project is a volunteer opportunity to help keep Sweetwater Preserve in prime condition. The 450-acre Galveston Bay Foundation preserve includes a diverse array of habitat that provides food and shelter for a variety of birds that live there year-round. Volunteers will help maintain native vegetation by removing invasive plant species, and will work on facility improvements.
Visit http://www.galvestonnaturetourism.org/holidaywiththecranes.asp for additional details on each event and to register. Registration prices vary based on event and occupancy is limited.
Holiday with the Cranes is presented by the Galveston Island Nature Tourism Council, a nonprofit volunteer organization that helps connect people with nature experiences and outdoor adventures, and promotes the value of natural habitats and resources in the Galveston area.
###