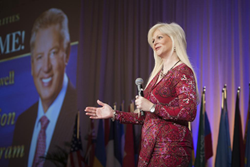 Once you taste significance, success is never enough
(PRWEB) October 05, 2015
The Leadership Institute program is a quarterly series offered mid-day to allow participants an opportunity for professional development training over their lunch break. The session will be facilitated with group discussion and presentation of various leadership topics, many of which were suggested by previous program participants as areas of interest for success in business today. Facilitators have diverse leadership backgrounds from a variety of fields including education, business, and government.
There is no cost for participants, and a healthy lunch will be provided.
Location:
TCC Capitol Center
300 West Pensacola Street
Day:
October 8th, 2015
Time:
11:30 AM - 1:00 PM
World-renowned leadership expert John C. Maxwell says, "If you want to succeed, you must learn how to connect with people." While it may seem like some folks are just born with it, the fact is anyone can learn how to make every communication an opportunity for a powerful connection. "Can You Hear Me Now?" will focus on Five Principles and Five Practices to develop the crucial skill of connecting.
Participants will learn how to get their message across by building a bridge to others. Cultivating relationships is every bit as important to effective communication as crafting the message. Participants will also learn that the insightful principles are critical to understand if you desire to forge a lasting bond with those around you. They will be able to better prepare to apply these principles and practices in private conversations or group presentations. Learning these principles and connecting practices will give audience members an edge as a leader.
Part I: Connecting Principles
Connecting Increases Your Influence in Every Situation
Connecting Is All About Others
Connecting Goes Beyond Words
Connecting Always Requires Energy
Connecting Is More Skill Than Natural Talent
Part II: Connecting Practices
Connectors Connect on Common Ground
Connectors Do the Difficult Work of Keeping It Simple
Connectors Create an Experience Everyone Enjoys
Connectors Inspire People
Connectors Live What They Communicate
For more information on this and other sessions part of this program this year, participants can go here https://www.tcc.fl.edu/Current/Academics/WorkforceDevelopment/Leadership-Institute/Pages/Lessons%20Over%20Lunch.aspx
Dr. Lynn Wicker:
Dr. Lynn Wicker is a certified John Maxwell Team Speaker, Training, and Success Coach. Additionally, she is an author and avid blogger, writing about real life challenges. She has 30 years of experience in public education, holding various leadership positions in K-12 and Higher Education. Lynn is an international teacher of transformational leadership principles and uses her "adding value" lifestyle to connect with people creating life transformations. Her passion is to inspire individuals to find their own successes in life. Dr. Wicker received her Doctorate in Education from The Florida State University, and she has completed the Harvard Graduate School of Education Superintendent Institute.