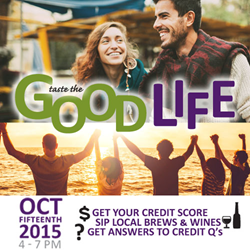 Taste the Good Life provides a fun, informal atmosphere for consumers to learn about credit.
Phoenix, Arizona (PRWEB) October 05, 2015
In celebration of International Credit Union Day, Arizona Federal is offering members of the public the chance to review their credit with a financial coach, all while enjoying local brews, wine and food at their Taste the Good Life credit happy hour on October 15.
As many as 1 in 4 Americans have errors on their credit report, yet only two-thirds of consumers say they have ever checked their report. In the same survey, Bankrate.com found that almost half (41 percent) of Millennials report they have never seen their credit report.
"Credit is something most people don't know enough about, yet it can affect everything from interest rates on loans to job prospects and insurance pricing," said David Kexel, director of marketing for Arizona Federal. "With the Taste the Good Life event, we're providing a fun, informal atmosphere for consumers to learn about their credit and receive tips on how to improve their score."
The free event is being held from 4 p.m. to 7 p.m. at the Arizona Federal Operations Center located at 333 N. 44th Street, Phoenix, AZ 85008. Attendees are encouraged to RSVP at http://www.ArizonaFederal.org/GoodLife.
About Arizona Federal Credit Union
Arizona Federal is a $1.3 billion not-for-profit financial cooperative providing financial services and expertise to over 120,000 member/owners. Founded in 1936, the organization took their foundation of financial empowerment and mutual benefit to heart with the release of their web-based financial reality show, My Comeback with Kurt Warner, in March of 2015. Arizona Federal has 17 locations across the Phoenix metropolitan area. Deposits are insured by the National Credit Union Administration (NCUA).