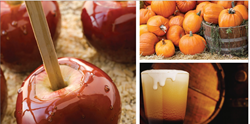 Half Moon Bay, California (PRWEB) October 03, 2015
In celebration of Halloween, The Ritz-Carlton, Half Moon Bay will be transformed into a ghoulish Castle on the Coast. Eerie décor, ghostly stories, chilling movies and traditional Halloween treats will highlight the weekend.
Tricks and treats include apple cider and caramel apples in the lobby, Trick or Treat bags delivered at turndown, and a Ghost Story Teller spinning tales throughout the evening on the Ocean Lawn.
When darkness falls on All Hallows Eve, Saturday, October 31, the 1935 classic horror movie, Bride of Frankenstein, will be screened on the Ocean Lawn. After recovering from injuries sustained in the mob attack upon himself and his creation, Dr. Frankenstein falls under the control of his former mentor, Dr. Pretorius, who insists the now-chastened doctor resume his experiments in creating new life. Meanwhile, the Monster remains on the run from those who wish to destroy him without understanding that his intentions are generally good despite his lack of socialization and self-control. The movie is complimentary with cocktails and appetizers available for purchase from The Ocean Terrace.
The Fire and Wine package gets dressed up as Brimstone and Brew for Friday, October 30 and Saturday, October 31. For Halloween weekend, the experience includes overnight accommodations in a Terrace Fire Pit guestroom (the Brimstone), a blood red rose petal turndown, and a bottle of Banshee wine (the Brew) – in celebration of the 1437 legend of King James I of Scotland who was approached by a banshee who foretold his demise.
For more information on Halloween activities, contact The Ritz-Carlton, Half Moon Bay at 650-712-7000. For room reservations, contact a travel professional, visit http://www.ritzcarlton.com/HMB or call (800) 241-3333.
# # #
About The Ritz-Carlton, Half Moon Bay
Situated 23 miles southwest of the San Francisco International Airport, The Ritz-Carlton, Half Moon Bay is a 261-room destination spa and golf coastal hotel and the San Francisco Bay Area's only oceanfront resort. Set atop a rugged bluff overlooking 50 miles of pristine California coastline, the timeless oceanfront estate provides guests with a relaxed yet refined experience, whether for a romantic getaway, meeting or special event.