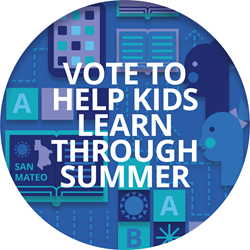 The Big Lift's work to unite more than 200 organizations ...to provide summer reading programs for underserved children ... is the type of bold and imaginative idea that the Google Impact Challenge: Bay Area seeks to foster. - Justin Steel
Mountain View, California (PRWEB) October 05, 2015
The Big Lift, a bold social venture to transform early learning, has been named a Top 10 finalist in the 2015 Google Impact Challenge: Bay Area. As a finalist, The Big Lift will receive $250,000 in funding from Google.org to provide its Inspiring Summers program for low-income children in San Mateo County, offering enriching experiences and preventing summer learning loss.
The Big Lift could receive an additional $250,000 in support from the Google Impact Challenge via a public voting period that runs from September 29 – October 20. The 2015 Google Impact Challenge: Bay Area will award a total of $5 million to Bay Area nonprofits. The Big Lift was selected from a field of more than 800 applicants to be among the finalists.
The Big Lift is led by the County of San Mateo, the San Mateo County Office of Education and Silicon Valley Community Foundation with some 200 partner organizations.
"The Big Lift's work to unite more than 200 organizations in order to provide summer reading programs for underserved children in San Mateo County is the type of bold and imaginative idea that the Google Impact Challenge: Bay Area seeks to foster, " said Justin Steele, Bay Area Giving Lead, Google. "This work has the potential to greatly improve the lives of local residents and we are excited to support it."
The Big Lift Inspiring Summers Program will ensure that underserved kids have the support they need to read and succeed. Creative, hands-on projects will engage kids with science, art, technology and math in the summers between preschool and third grade. The program will support children's' interests in academic subjects and persistence in school.
Here in the heart of Silicon Valley, only 35 percent of Latino, African-American, and Pacific Islander children in San Mateo County can read proficiently by third grade, a phenomenon that is partially explained by unequal access to summer learning opportunities. Low-income kids lose an average of two months in reading achievement, compared to their middle-income peers, over the summer.
"This is a tremendous opportunity for The Big Lift to provide summer programs that will help kids stay on track by addressing the gaps and barriers that make it difficult for them to succeed," said Emmett D. Carson, CEO and president of SVCF. "The Big Lift Inspiring Summers Program will be designed not only to end summer learning loss, but to inspire all our kids to learn."
To vote for The Big Lift in the Google Impact Challenge: Bay Area, please visit https://impactchallenge.withgoogle.com/bayarea2015/charity/thebiglift
#VoteTheBigLift
To learn more about The Big Lift, visit thebiglift.org
About The Big Lift
The Big Lift is led by Silicon Valley Community Foundation, the San Mateo County Office of Education, the County of San Mateo and a network of funders and service providers devoted to improving outcomes for children in the county. With these initial Big Lift grants, recipient districts and their co-lead agencies will work together to develop high-quality preschool and summer programs, focus on reducing absenteeism and engage parents and the broader community to support learning in school and at home. thebiglift.org