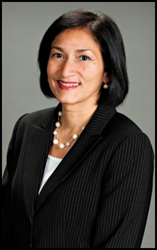 Durham, N.C. (PRWEB) October 07, 2015
The Mayor's Hispanic-Latino Committee (MHLC) was officially recognized as a City of Durham Committee during the City Council's working session September 24, 2015. Anabel Rosa, attorney with the Law Offices of James Scott Farrin, was selected to chair the committee. Rosa has been serving as Secretary with MHLC for a year and a half.
"As the number of Hispanic-Latino residents in Durham County continues to increase exponentially, it is important for the city to have a group that can serve as a liaison to assist with community issues and help residents better understand city services, and I am honored to chair this remarkable group," Rosa said.
Organized in 2002, the MHLC functions as a liaison and a consultative body between Durham's Hispanic-Latino residents and city government officials to promote and protect equal opportunities on behalf of the Hispanic-Latino community. The committee aims to improve opportunities and open doors for Hispanic-Latino Americans through civic engagement and by promoting the interests and needs of the Hispanic-Latino communities of Durham.
Rosa is no stranger to offering her time and talents as a volunteer and advocate for Durham's Hispanic-Latino community. She received the North Carolina Advocates for Justice (NCAJ) service award and serves on its executive committee as Vice Chair and is Chair elect of the Latino Affairs Division.
Rosa is also a member of the Special Populations Subcommittee for the Partnership for a Healthy Durham – a collaborative network of healthcare professionals who promote health and medical treatment options for members of the Latino community. She is actively involved in Real Durham, an anti-poverty program modeled after the National Circles program, which currently targets the East Durham Economic Development Zone.
For three consecutive years Rosa volunteered with the National Association of Latino Elected and Appointed Officials (NALEO) in its pro bono immigration clinics. She and Rick Fleming, a shareholder with James Scott Farrin and head of the firm's Latino Outreach Committee, which has all bilingual staff, helped launch and organize the committee.
"Anabel is a tireless advocate for our Hispanic-Latino community, and I am honored to call her a colleague and friend. We have sponsored multiple immigration workshops together with NALEO, El Centro Hispano, Univision 40, and NCAJ, with the goal to assist those in our community to become citizens of the U.S.A.," said Fleming.
Moreover, Rosa has taught in an English as a Second Language program for five years with volunteers from several local churches.
Each year the Law Offices of James Scott Farrin honors an employee with its "Social Services Award" for extraordinary work within the community. Rosa received this award for her diligent service to Durham's Hispanic-Latino community throughout 2014.
ABOUT THE LAW OFFICES OF JAMES SCOTT FARRIN:
The Law Offices of James Scott Farrin is headquartered in the American Tobacco Historic District, adjacent to the Durham Bulls Athletic Park, in Durham, North Carolina, with 13 additional offices statewide in Charlotte, Fayetteville, Greensboro, Greenville, Goldsboro, Henderson, New Bern, Raleigh, Roanoke Rapids, Rocky Mount, Sanford, Wilson, and Winston-Salem. The firm's 37 attorneys focus on the following practice areas: Personal Injury, Workers' Compensation, Social Security Disability, Eminent Domain, Intellectual Property, Civil Rights, Mass Torts and Products Liability. Five of the attorneys are North Carolina Board Certified Specialists in Workers' Compensation Law and one is a North Carolina Board Certified Specialist in Social Security Disability Law. The Law Offices of James Scott Farrin is involved in the community, including sponsorship of local philanthropic organizations and an active employee matching donation program.
Contact Information:
David Chamberlin
280 S. Mangum Street, Suite 400
Durham, NC 27701
866-844-4262
http://www.farrin.com