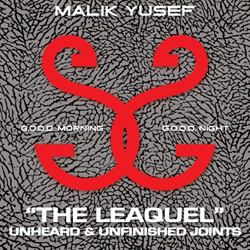 Chicago, IL (PRWEB) October 03, 2015
Today Coast 2 Coast Mixtapes announce the release of "G.O.O.D. Morning, G.O.O.D. Night The Leaquel, Unheard & Unfinished Joints", the latest mixtape by Chicago's Malik Yusef. The mixtape is currently available for streaming and download at the Coast 2 Coast Mixtapes website. "G.O.O.D. Morning, G.O.O.D. Night The Leaquel, Unheard & Unfinished Joints" is the 3rd installment from Malik Yusef's G.O.O.D. Morning G.O.O.D. Night series that started with his album in 2009, and was followed up by last year's release GMGN Deconstructed.
The mixtape features 13, including those below:
1 Late Night Sh*t feat. D. Cross, Loren Riche & Megan Elizabeth (Prod. By D.Cross) @pashence_marie
2 Sin City (Original) (Prod. By Tommy Brown & Travis Scott)
3 Babe Method feat. Abby Parece, CJ Sparxx, Pashence Marie, Holly Wolf, Chrystiane Gaygher, Amber Quinn, Black & Kentrell (Prod. By Hit Fluid Blue & KC)
4 Go feat. Jay Hayden (Prod. By D.Cross)
5 Slums feat. Raheem DeVaughn, J. Rice & Casey Cooper (Prod. By D.Cross & Nate "Impact" Jolley)
6 Anymore feat. Andrew Garcia, The Johnson Brothers, & Brandon Skeie (Prod. By Nate "Impact" Jolley) @hollytwolf @chrystianebrasil
7 Hollywood Jerome (Prod. By Mind Killa)
8 Win It's Over (Prod. By D.Cross)
9 Nobody's Smiling (Original) (Prod. By Mind Killa) @cjsparxx
10 See U Again (Prod. By D.Cross)
11 Chip Tha Ripper feat. Malik Yusef & CyHi Da Prynce – We Ain't Playin' (Prod. By Big Duke & Rami)
12 Amazing feat. JV (Remix) (Prod. By The 11th Hour) @abbyparece
13 Savages feat. Malik Yusef, Grande Marshall & Ab-Liva (Prod. By Mizzy Beats)
Malik Yusef is currently seeking press opportunities, interviews, features, and more. He can be reached at through his official website.
About Malik Yusef: Wordsmyth, writer, super producer, poet, philanthropist, film maker, and fashionista – The Chicago Legend and 5x Grammy Award Winner is most notably recognized for his collaborative efforts with creative genius, and superstar friend Kanye West, but also for his extensive work in the community & intellectual creativity. Yusef is a key influencer in the community. He seeks to use his star power and influence to help prevent others from making the same mistakes he did in his youth. His initiatives like People's Climate Music & Act on Climate make him an invaluable icon and tastemaker in today's global industry. Learn more at http://malikyusefjones.com. For more info on Malik Yusef visit his official Facebook fanpage.
About Coast 2 Coast Mixtapes:
Coast 2 Coast Mixtapes are the most widely distributed mixtapes in the world, with over 100 million downloads/plays generated by over 300 volumes officially hosted by major artists. Coast 2 Coast has a solid reach in the new music industry with a digital magazine, DJ coalition, industry tips blog, yearly convention, and more. Coast 2 Coast Mixtapes represents a unique opportunity for artists of all urban genres, from major to indie. For more information, visit http://www.coast2coastmixtapes.com.