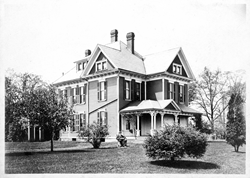 This is a once in a lifetime opportunity to own a very unique historical home. A truly awesome house! John Farkas, Auctioneer
(PRWEB) October 06, 2015
Kinsman, Ohio: This historic, 130-year-old Queen Anne Victorian Farmhouse at 6510 Kinsman Nickerson Road is a rare and unique treasure, for sale by auction on Saturday, Oct. 24, 2015 by John Farkas, Auctioneer/Realtor (http://www.estateauctioneers.com).
This home provides a rare opportunity for buyers in the Warren/Kinsman and surrounding areas, for it would be ideal as a bed and breakfast, or simply as one of the finest of historic homes available on the market today. The history of the family who inhabited it through generations is what makes it uniquely intriguing and appealing.
In the fall of 2011, Bruce Birrell, former solicitor and prominent attorney for 60 years in Warren, Ohio, quietly began the process of renovating his family's 3,000-square-foot, 130-year-old Kinsman family house with the goal of moving into it himself. With its arched ten-foot ceilings, original wood flooring, and ornate, handcrafted details, like walnut, turned spindle banisters, and four native dark marble fireplaces, the house was one of a kind.
As the caretaker of his family's legacy, Birrell felt it both his responsibility and burden to restore the house. He enlisted the help of noted interior designer Connie DeGood, but did not mention his plan to his daughters, Lisa Birrell Turner and Barbara Birrell Hyde until months later. George William Birrell, Bruce's great-grandfather, served as cashier of the Kinsman National bank, and co-owner of the town's only hardware and merchandising store, Birrell & Karr. In 1880, he built the stately Queen Anne Victorian on 100 acres of land for his family to live.
George served as trustee for many prominent area families – including the Kinsman's, descendants of the town's founders. According to newspaper reports from the time, Alfred Kinsman was furious about the way his father's estate had been divided, and with Birrell, who controlled his finances. On June 18, 1907, Kinsman, armed with a Winchester rifle, tracked Birrell down at his hardware firm. According to the Western Reserve Democrat, he cried out: "Now I've got you," before firing at George's shoulder. The bullet hit an artery, and Birrell died soon after.
Birrell's body was carried back to the home he built and crafted. And though he was buried at a nearby cemetery, it is said that his ghost still haunts the house. Visitors report that the foyer door, solid and heavy as an oak tree, suddenly swings open and shut, and at random hours, the ringing of a bell can be heard throughout the house – though the doorbell has been disconnected for years.
"I felt like someone was just hanging out keeping an eye on things," explains Kevin Young, a painter who worked at the house.
After George died, the house was passed down to his youngest child and namesake, George Henry, a Warren lawyer and judge. As a prosecutor during the Prohibition era, George Henry came to be known as "the ax buster" for the aggressive way he went after the owners of speakeasies in the Youngstown/Warren area.
The "Ax Buster" spent summers at the Kinsman house with his wife, Mary Ann (Mamie) and three children: William, George, and Bruce – the youngest. Those memorable summers were the last of carefree times Bruce would share with his oldest brother, Lieutenant William Henry Birrell, who entered the Army Air Corp after graduating from West Point in 1940.
On October 21, 1941, William Henry left on a cross-country mission to test out air defense systems. Three day later, the base's weather operations officer recommended delaying the trip—recommendations the squadron leader dismissed. This proved to be a disastrous move. Clouds, low visibility, and miscalculated directions caused the planes to separate and sway off course. Birrell's plane struck the side of Grays Mountain. He was instantly killed.
George and Mamie were sent their son's remains and pieces of the fuselage of his plane, which they kept in the attic of their Kinsman home. The mood of everyone changed after William Henry's death.
In Bruce's eighth decade, what he desired most was to recreate those summers spent at the Kinsman house– and by doing that, he hoped to bring back to life the memories of his brother and his parents in happier times.
"I just want to sit in a rocking chair on the front porch and watch the world go by," Bruce said to designer Connie DeGood when she first met with him about his plans.
In the process of restoring the house, DeGood kept to the spirit of Birrell's memories. Only the kitchen and bathrooms are completely updated and remodeled. DeGood's re-design of the kitchen includes custom-made cabinets, a granite-topped island, and brand new appliances. In May of 2012, Bruce finally told his daughters about his secret renovations and moving plans. While initially they were concerned, they eventually warmed to the idea and rallied around his vision.
Admitted to a hospital in November, 2012, Bruce sat in his bed and mapped out on pieces of paper where exactly each piece of the family furniture should go, based upon his memories of the place.
Birrell never got the chance to move in. He died in November, 2012 of heart failure.
Barbara and Lisa presided over the final renovations of the house. Using his diagrams, they arranged the rooms and furniture in the manner he had envisioned, and in June, 2013, they opened the home to family and friends for a one-day celebration of Bruce's life.
"It was the party he would have wanted to have," says Barbara.
The house stands as a monument to the Birrell lineage – and as an important piece of Kinsman's past.
As Lisa says: "Somebody deserves to love that house the way my dad would have loved it." And on October 24, the home will be auctioned, offering a rare opportunity for that special "somebody" to purchase and enjoy one of the most unique and storied of historic homes in Northeast Ohio, passed down through generations of just one family, until now.
For more information about the home or auction, call John Farkas at 440.647.4007 or email John(at)EstateAuctioneers(dot)com.