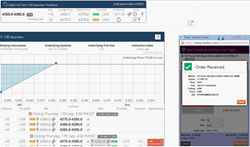 "95% of new traders using the scanners are returning so traders see the results." Darrell Martin, Full Time Trader and Founder of Apex Investing
Austin, Texas (PRWEB) October 07, 2015
Nadex traders can benefit immediately, from exclusive new features on the Apex scanners that fill orders with unsurpassed speed, allow for better trade analysis, and shorten the learning curve for beginning traders. The Apex binary and spread scanners, designed by real traders for traders, have more intuitive user interfaces for new and veteran traders alike. Free access to the new scanners with instructions can be found at http://www.apexinvesting.com.
New Nadex traders have a significantly shortened learning curve, finding both scanners easier to read and more comfortable to test trade binaries and spreads right away in demo mode. Experienced Nadex traders, and previous Apex scanner users, are finding the new scanners simpler to analyze and execute trades, yet still have the familiar advantages of Apex's original scanners.
Unlike Nadex Pro, the Apex scanners have seen significant and increased usage. "Usage reports indicate that approximately 800,000+ option contract orders were filled in the last 60 days and 95% of new traders using the scanners are returning. That shows traders are seeing the results", says Darrell Martin founder of Apex Investing.
With enhanced filters and just a glance, the trader can isolate specific desired contracts, see the strike price, profit potential and risk, enabling faster decision-making and execution while trading. New exclusive buttons, like the lightning bolt button, benefit traders with instant order submission and fills. Original exclusive features like the Stop Trigger Function now have improved stability.
"Nadex currently lists over 5000 unique contracts per day. This gives traders a great deal of flexibility, but can also make it difficult to find the exact contract that meets the trader's strategy or risk parameters. Having a tool that can identify these contracts can be very helpful in finding the trading opportunities that best fit the trader's strategy", explains Dan Cook, Director of Business Development at Nadex. Like what Tom Sosnoff's, Thinkorswim brought to the world of stock option trading, Martin says his vision for the new binary and spread scanners is "to continue to redefine trading platforms for Nadex options, making for easier, more accurate trading".
"Early adopters of the scanners noticed the speed is faster than the Nadex Trading Web platform itself", says John Skelton, Head of Operations. Users have been overwhelmingly positive, leaving product reviews like, "I love the speed and efficiency. The lightning submit is amazing." "Stop trigger and a trade tracker all in one place: what's not to love about this new scanner." "I can't imagine trading Nadex 5-minute binaries without the new binary scanner. Trading without the new scanners would be like trading blind."
When asked what's behind the development of the Apex binary and spread scanners, Ben Boyle, Head of Information Technology at Apex, responds, "Darrell's unique vision combined with active community feedback from thousands of active traders, even a former Nadex employee, contributes daily to research and development in both trading systems and software development. Our elite programmers, who span the globe covering multiple continents, have over 60 years combined experience, a majority in developing order management, data management tools, and user interfaces for trading applications, and have spent literally years of development making the feeds and the scanners. Everybody works together sharing ideas. Many traders donate thousands of hours of research to Apex. To support the community growth, they contribute code and our primary programmers add into the confidential main source."
Traders benefit from Martin's ten plus years trading experience and his knack for identifying what traders need. "I learned early on by encouraging people to collaborate and joining a team, my efforts and results are multiplied and become much greater than I could ever be on my own." explains Martin. Free access to the new binary scanner with instructions can be found at http://www.apexinvesting.com.
Apex Investing Institute is the source for day trader essentials providing free education on trading Nadex binaries and spreads, as well as futures, Forex, and CFDs. Apex members have access to leading and key indicators, live, dynamic online classrooms for trading, and trade signal services as well as the binary and spread scanners. The Apex forum, built on the company culture of Traders Helping Traders, boasts a 14,000+ membership with access to non-members as well.
Follow us on Twitter: @apexinvesting
Like us on Facebook: http://www.facebook.com/ApexInvesting
To learn more about Apex Investing, or information on becoming an Apex member please visit http://www.apexinvesting.com, or email media (at) apexinvesting (dot) com.