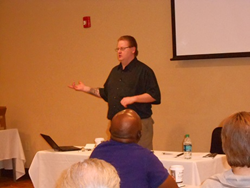 "Average tax resolution case fees exceed $3,500. Learning how to sell this lucrative service and how to properly work tax resolution cases should be at the top of the priority list for any EA, CPA, or tax attorney.
Aberdeen, MD (PRWEB) October 04, 2015
Tax professionals from all around the country are invited to visit the Baltimore area to attend the 2015 IRS Representation Boot Camp. During this three-day conference, CPAs and Enrolled Agents will not only acquire the skills to successfully represent taxpayers that have unpaid tax liabilities to the IRS, but can also earn up to 16 hours of continuing education in the field of Federal Tax Law. CPAs may also be eligible to earn an additional 10 hours of non-technical CPE. Registration is online at http://TaxResolutionBootCamp.com.
At this event, tax professionals will learn about the IRS collections process, how to determine the tax resolution options available for there clients, and how to negotiate those specific resolutions. Agenda highlights include coverage of the IRS Offer in Compromise program, applicability of the six Installment Agreement types to client situations, and how to obtain Currently Not Collectible status. A special evening session will cover Trust Fund Recovery Penalty representation.
Attendees will also learn what's working now to attract these high-fee clients. Tax resolution marketing requires a more direct approach than many tax professionals are used to, and also requires having special processes in place to ensure that they get paid for their work. Attendees will learn the most effective client attraction strategies and have the opportunity to see actual marketing campaigns that are working today.
The IRS Representation Boot Camp will be held October 26-28, 2015, at the Holiday Inn Express in Aberdeen, MD. To learn more about the topics being presented, a complete agenda for all three days, and biographies of speakers, please visit http://TaxResolutionBootCamp.com.
About Learning Suite, Inc.
Learning Suite, Inc. is changing the landscape of continuing education for Enrolled Agents, CPAs, and attorneys. For many practitioners, continuing education is a time consuming, inconvenient obligation that doesn't provide actual benefit to them professionally. CPEsuite.com produces CPE courses in convenient, bite-sized chunks that can be completed anytime, anywhere. All instructors and courses are carefully screened to make sure that they provide practical, actionable value and advice. To complete a CPE course at no charge, visit https://CPEsuite.com.
About Tax Marketing HQ
Founded by Jassen Bowman, EA, TaxMarketingHQ.com provides tax practice growth resources, tax resolution marketing training, and hands-on coaching to help independent tax and accounting professionals grow their businesses. Jassen Bowman is the author of the Amazon bestselling tax resolution book for consumers, "Tax Resolution Secrets", host of the "230 Insider" podcast, and has written a number of other books available on Amazon specifically for tax professionals. For an extensive collection of guides, tax resolution marketing ideas, and other resources, visit https://TaxMarketingHQ.com.