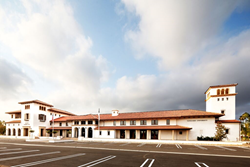 We offer this building as a public landmark, tying Orange County's past to its future.
COSTA MESA, Calif. (PRWEB) October 05, 2015
Vanguard University unveiled a dramatically expanded and remodeled Scott Academic Center on Saturday, October 3, to nearly 600 community members, civic leaders, administrators, students and others keen on advancing the history of this 95-year-old university – the first four-year college opened in Orange County. The expansion will allow for Vanguard to increase classroom capacity by approximately 1,500 students per day.
Grand opening attendees included Mayor Pro Tem of Costa Mesa Jim Righeimer, President and CEO of the Costa Mesa Chamber of Commerce Kyle Woosley, and Senator John Moorlach of California's 37th District.
"We offer this building as a public landmark, tying Orange County's past to its future," said Dr. Michael J. Beals, president of Vanguard University. "With its authentic Santa Barbara-style architecture, Scott Academic Center now serves as a welcoming beacon for a new generation of academics, idealists and thought leaders prepared to lend influence to some of the most-pressing challenges of our time, including the future of healthcare, social justice issues and the integration of military veterans into civilian life."
Growth Prompted Need for Revamped Campus Hub
Vanguard University opened Scott Academic Center in 1976 to honor Dr. John B. Scott, the fourth president of the college, who also served as a professor, dean and librarian. The utilitarian design of the center met the needs of the student population at the time, and reflected the architectural style that defined the decade and matched the tempo of Orange County's rapid growth.
Over the next three decades, however, Vanguard University evolved. Its student body population swelled, attracted to the institution's liberal arts and professional studies programs. In turn, Forbes, Princeton University Review, U.S. News & World Report and others recognized Vanguard University among its lists of top colleges. Administrators realized the existing Scott Academic Center could offer greater value and command a stronger spot among Orange County's rich academic community with an expansion and technologic updates.
New Center Prepares Vanguard University for Next Phase of Growth
In 2014, the university selected Anthony Massaro of Orange County-based Mars Hill Studio as the architect and broke ground on the redevelopment. Vanguard University challenged Massaro and his team to redefine Scott Academic Center as a spiritual and academic sanctuary to welcome students as well as a space for them to grow into leaders of tomorrow. In addition, university leaders desired an opportunity to begin its first stage of a cohesive design aesthetic throughout its campus architecture to pay homage to Costa Mesa's earliest history as Native American and Spanish communities.
Vanguard University unveiled the newly remodeled and expanded Scott Academic Center to students during the Fall 2015 semester and to the public this past Saturday. During the grand opening ceremony, Dr. Beals unveiled more than a simple facelift of an existing campus structure. More so, Scott Academic Center now is the inviting "front door" to the university.
Redesign Permits Greater Student Collaboration and Creates a Public Landmark
Situated across from Orange County Fairgrounds on Fair Drive, the building features all of the earmarks of a city civic center, including a bell tower to carry the landmark upward into the sky. Although nearly 50,000 square feet in size, architect Massaro designed the substantial center to feel approachable, thanks to a series of rambling walkways, an outdoor courtyard and a lobby furnished with club furniture.
Vanguard University remodeled the original 23,076 square feet of the center and expanded it by 16,135 square feet to house all student services together – the first time in college history.
Within the new three-story education wing, students can gather in a nursing simulation lab endowed with technology and instruments found in major medical centers, the Global Center for Women and Justice, a Veterans Resource Center, and a Diversity and Inclusion Department. Ten classrooms with immersive technology to facilitate learning also were added.
Another addition is Samson's Café, an eatery offering coffee and light fare. It's open to students as well as the public, furthering Vanguard University's ability to create a campus that serves as a community hub.
Vanguard University funded construction through a capital campaign supported by 350 donors who committed more than $7 million.
About Vanguard University
Vanguard University (VU) is a regionally ranked, private, Christian university of liberal arts and professional studies. Located 10 minutes from Newport Beach and an hour from Los Angeles, Vanguard equips students for a Spirit-empowered life of Christ-centered leadership and service. Vanguard is committed to academic excellence, boasting small class sizes that are designed to cultivate lasting professor-mentor relationships to enhance learning. The 2016 U.S. News & World Report ranked Vanguard No. 13 in the Regional Colleges (West) category, No. 10 for Best Colleges for Veterans and No. 19 for economic diversity. The Princeton Review ranked Vanguard a 2016 "Best in the West" regional college. Accredited by the WASC Senior College and University Commission, Vanguard offers more than 30 degrees and certificates through its undergraduate, graduate and professional studies programs. Please visit vanguard.edu for more information or to schedule a campus tour.
###