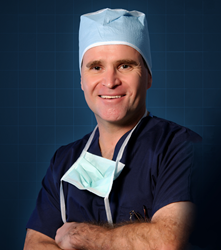 We are very pleased to have such a dedicated, uniquely qualified surgeon working with us to help our patients achieve a more normal life with cell therapy.- CEO Okyanos, Mattew Feshbach
Freeport, Grand Bahama (PRWEB) October 06, 2015
Okyanos, the leader in cell therapy, announced the addition of Dr. Jeffrey Hartog to its prestigious medical team to accommodate the growing demand for adult stem cell treatment. Dr. Hartog, a recognized expert in the field of cell-assisted cosmetic and reconstructive surgery, brings considerable experience to Okyanos. With over 10,000 surgical procedures performed and over 20 years of practice, Dr. Hartog performed his first cell-assisted breast reconstruction in 2010, putting him at the forefront of cell therapy as the next phase in the evolution of medicine.
In addition to dual board certification in Plastic Surgery and Oral and Maxillofacial Surgery, Dr. Hartog's diverse medical background includes residencies in four different specialties: plastic and reconstructive surgery at the University of Utah in Salt Lake City, Utah; general surgery at Baylor University in Dallas, Texas; oral and maxillofacial surgery as well as anesthesiology at the University of Miami. His duties at Okyanos will include oversight of the critical water-assisted liposuction (WAL) step of the Cell Therapy process as well as the systemic administration of patients' own stem cells. WAL is an advanced form of fat harvesting that produces higher quantities of stem and regenerative cells in a minimally traumatic way.
"Dr. Hartog is warmly welcomed to the Okyanos team," said CEO, Matthew Feshbach. "We are very pleased to have such a dedicated, uniquely qualified surgeon working with us to help our patients achieve a more normal life with cell therapy."
Dr. Hartog also heads the only plastic surgery clinic in the United States to have immediate access to an FDA-registered tissue bank to store fat removed with liposuction for fat transfer procedures and maintains medical staff privileges at the Orlando Regional Medical System in Orlando, Florida and the Aesthetic Surgery Center of Winter Park in Winter Park, as well as professional memberships with the American Society for Aesthetic Plastic Surgery, American Society of Plastic Surgeons, International Society of Plastic Regenerative Surgeons and International Federation for Adipose Therapeutics and Science.
"I am honored to join Okyanos as they lead the way in this new category of personalized healthcare," said Dr. Hartog. "As a physician, I am excited at what the future holds for so many patients who have exhausted all the medical options currently available to them."
Adult stem cell therapy has emerged as a new treatment alternative for those who are restricted in activities they can no longer do but are determined to live a more normal life. Okyanos cell therapy uses the potent combination of adult stem and regenerative cells found in patients' own fat tissue.
Just 55 miles from US shore, Okyanos Cell Therapy is available to patients suffering with the daily limitations of heart disease, neuropathy, diabetes, multiple sclerosis, arthritis, orthopedic problems and other chronic, degenerative conditions. This innovative procedure is premised on the healing power of adult stem cells isolated from the patient's body fat which have the ability to decrease inflammation, repair damaged tissue, facilitate better cell-to-cell communication and stimulate new blood vessel growth.
Patients can contact Okyanos to learn more and request a complimentary consultation with one of our doctors by visiting http://www.Okyanos.com or by calling 1-855-659-2667.
About Okyanos: (Oh – key – AH – nos)
Based in Freeport, Grand Bahama, Okyanos helps patients with chronic, degenerative conditions get back to a more normal life with cell therapy. Okyanos Cell Therapy utilizes a unique blend of stem and regenerative cells derived from patients' own adipose (fat) tissue which helps improve blood flow, moderate destructive immune response and prevent further cell death. This new treatment option is available to patients with coronary artery disease, orthopedic conditions, arthritis, diabetes, multiple sclerosis, neuropathy and other serious conditions. Okyanos is fully licensed under the Bahamas Stem Cell Therapy and Research Act and has been specially built to U.S. surgical center standards. The literary name Okyanos, the Greek god of the river Okyanos, symbolizes restoration of blood flow.