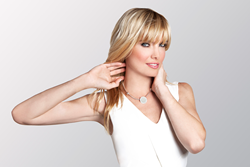 We really wanted to develop a perfect gift from the bride to the bridesmaids as this is a really important tradition for any wedding party
(PRWEB) October 14, 2015
Bridal jewelry designer Caterina Jewelry has proudly announced the release of their newest line of fashionable, elegant accessories. Known as the CJ Bridal Silver Charm Collection, each piece from this premium collection features an exquisite, vibrant design paired with superior craftsmanship.
One of the true standout highlights about the company's newest line of jewelry is their focus. While the CJ Bridal Silver Charm Collection features an extensive range of options for the bride herself, the focus remains on providing beautiful accent pieces and accessories for all the members of the bridal party as well.
According to Caterina Jewelry co-founder Cathy Barouch, the primary inspiration for this new line of jewelry was providing the bridesmaids themselves with showpiece accents that both made a high impact while highlighting the beauty and elegance of the bride herself.
"We really wanted to develop a perfect gift from the bride to the bridesmaids as this is a really important tradition for any wedding party," Barouch recently discussed. "Our classic design gives bridesmaids fine jewelry that they can wear often. They can even make these pieces their own by easily adding their own charms."
This enduring quality of this jewelry is part of what makes it great for both the wedding day itself and the years after the wedding. "This collection is a perfect tie-in to enhance the overall look of a wedding party while giving bridesmaids an enduring gift they will cherish for years to come," Barouch furthered.
The CJ Bridal Silver Charm Collection features an extensive range of available options for brides and bridal parties. Each piece showcases a 1 x 1/8-inch charm made from premium quality .925 silver and a Swarovski element crystal which comes in various colors. The feature piece for the bride jewelry comes in White Opal, while the bridesmaids can choose between various colors such as Pink, Marsala or Capri Blue on either a .925 silver or a leather chain. And each piece can be ordered separately or together as a collection for a one-of-a-kind gift everyone in the bridal party will treasure for years to come.
The prices for these pieces remain highly affordable, starting from a modest $55 for a 2mm collection to $90 for a 3mm. All of the CJ Bridal Silver Charm Collection pieces can be ordered in collections or individual pieces from the Caterina Jewelry website at caterinajewelry.com.
ABOUT
Caterina Jewelry, LLC is a full-featured bridal jewelry designer and manufacturer focusing on high quality pieces at affordable rates. Founded by partners Cathy Barouch and Lara Korhammer, the company offers bridal parties a full line of elegant, premium quality jewelry including charm bracelets, earrings and necklaces. Pieces are constructed using only the finest quality materials such as .925 sterling silver and attention-grabbing crystal. Their latest line – the CJ Bridal Silver Charm Collection – is designed to bring excitement and fun to bridal parties without overlooking the beauty, elegance and high quality every bride deserves for her special day.