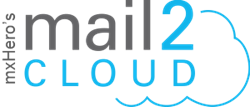 Transforming PST files into cloud repositories improves security and accessibility of valuable information
San Francisco, CA (PRWEB) October 07, 2015
Leading email to cloud storage integration technology company, mxHero, launches its latest email productivity innovation, the PST Retriever, now part of the company's Mail2Cloud product suite. The app copies archived emails stored in PST files into any one of several cloud storage services including Box, Dropbox, Google Drive, and Citrix Sharefile. By moving their PST email archives into cloud storage, users benefit from the improved security and accessibility of those cloud storage services.
Mail2Cloud PST Retriever is optimized for storing PST emails to cloud storage. In addition to saving an original copy of each email, each message is also converted into PDF files to allow for easy viewing and indexing by the cloud storage service's search engine. Any email attachments are also stored individually and links to those attachments are inserted into the PDF.
The Mail2Cloud PST Retriever solves important and persistent problems around Microsoft's Outlook PST files, namely, security and accessibility. PST files have historically been an important repository of email communications for users, as they were the only way an Outlook user was able to easily export and save their mailbox. However, they pose a security risk and many people find them inconvenient. Users' PST files have grown in size over time making them challenging to move from device to device. Moreover, these files are at constant risk from failed storage drives, device theft, viruses and file corruption.
Mail2Cloud PST Retriever benefits from the convenience of cloud storage accessibility. To be accessed, searched, and viewed, PST files require an installation of Microsoft Outlook. As a result, accessing a PST is a challenge from many common devices like phones, tablets, and many laptops. However, when saved to cloud storage with Mail2Cloud PST Retriever, users can access and search their old emails from anywhere and any device, leveraging the impressive array of access and search options provided by modern cloud storage services. The powerful collaboration options offered by cloud storage services affords users additional benefits, such as an easy way to securely share archived emails and enabling a forum for group collaboration around an important piece of archived information.
"Many people and organizations continue to deal with complex challenges around PST files. PST files contain important legacy information, but they are often unwieldy in size and are subject to data corruption, loss, and poor accessibility. Moving this valuable information to the cloud makes it more secure, accessible and collaborative," states Alex Panagides, CEO of mxHero.
Mail2Cloud PST Retriever is offered at no cost for limited usage and is available at http://dashboard.mail2cloud.io/my_pst_retriever.
About mxHero
mxHero is a company dedicated to enhancing email for businesses and end users. mxHero's products and services gives companies, service providers and end users powerful new ways to control, use and analyze email. Apps developed for mxHero's platform work with any email management program, including Gmail and Microsoft Exchange. Information on all of their Mail2Cloud product line can be found at http://www.mail2cloud.io. More than 3,500 companies with 800,000 users have added mxHero to their email. To learn more about mxHero visit http://www.mxhero.com. Find mxHero on Twitter: @mxheronet and Facebook: mxHero.net