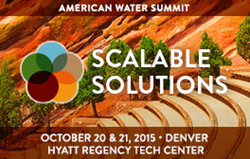 Taking great ideas and making them work on a greater scale is a difficult challenge for the American water industry... That is what this year's American Water Summit is all about.
(PRWEB) October 06, 2015
This year, the American Water Summit focuses on 'Scalable Solutions'. The ability to deliver success at scale is probably the greatest fundamental driver of value in today's economy. From tech startups to corporate titans, the greatest value lies in taking great ideas and making them work on a greater scale.
"It is a difficult challenge for the American water industry. With a market made up of tens of thousands of utilities and hundreds of thousands of industrial facilities, each with their own unique set of circumstances and outlook, building a critical mass of support behind a new idea is hard work" says Christopher Gasson, Publisher at Global Water Intelligence. "But the potential rewards are enormous, and unlocking them is what this year's American Water Summit is about". The event will bring together the top decision makers to discuss the themes and ideas that are making a difference to the way that water works in our economy today.
This intensive one and a half day conference will include strands that focus the discussion on three areas of dynamic change:
Utility finance: public-private partnerships move up the agenda with each step the federal government takes away from its funding commitments to the sector. But there remains a great deal of distance between the two sides. The National Association of Clean Water Agencies (NACWA) will co-host a workshop strand at the summit aimed at closing this gap. The sessions will explore new approaches to P3 which could make collaboration between public and private a scalable solution to the pressures on utility finance.
Speakers include:
Francesca McCann, President and Founder, Global Water Strategies
Patrick R. Cairo, Senior Vice President, Corporate Development, Suez Environnement North America
Adel H. Hagekhalil, Assistant Director, Bureau of Sanitation, City of Los Angeles
Peter Luchetti, Founder, Table Rock Capital LLC
Mike Orth, Senior Vice President, Executive Managing Director, Black & Veatch Water Americas
Howard M. Neukrug, Commissioner and Chief Executive Officer, City of Philadelphia)
Kent Rowey, Partner, Allen & Overy LLP
Joseph P. Baumann, Jr., Member and Chairman, McManimon, Scotland & Baumann, LLC
Dan Sugarman, Managing Director, KWP Capital, LLC
Pedro Almagro, Director, Abengoa Water USA
Kevin W. Chandler, Vice President of Operations, Suez Environnement North America
Ben H. Kapenstein, Borough Councilman, Middletown
Katie Harvey, President and Chief Executive Officer, KGBTexas.communications
Rob Court, P. Eng., P.G.D. Commerce, Manager, Wastewater Treatment Plant Upgrade Project, City Of Regina, Saskatchewan
Robert R. Puente, President/Chief Executive Officer, San Antonio Water System
Tim Carden, Managing Director, PFM Advisors
Carter Strickland, Jr., Vice President, Water & Natural Resources Program Manager, HDR Inc.
James Lee Murphy, Esq., Executive Manager of Water Resources and Utility Operations, Guadalupe-Blanco River Authority
Steven W. Lawitts, First Deputy Commissioner, New York City Department of Environmental Protection
Jonathan Kaledin, Executive Vice President, Natural Systems Utilities
Bob Hart, City Manager and Executive Director of Economic Development Corporation, City of Kennedale, Texas
Corporate Water Strategy: As scarcity becomes more of public issue, private businesses are finding themselves subject to increased scrutiny. Three options will be explored: aligning shareholder interests with environmental benefits, working with communities to generate shared value, and finding value in waste streams. The sessions explore potential solutions for scaling up a new approach to corporate water strategy.
Speakers include:
Hervé Buisson, P. Eng., Vice President, Veolia Water Technologies, Inc.
Dr. Elaine Dorward-King, Executive Vice President Sustainability and External Relations, Newmont Mining Corporation
Dr. Shihab Kuran, President, Strategic Development, NRG Energy, Inc.
Joe Rozza, P.E. BCEE, Global Manager, Water Sustainability and Natural Capital, The Coca-Cola Company
Karl D. Fennessey, Director, Strategic Engagement, ConocoPhillips
Tatyana Alexieva, Principal Geotechnical Engineer and Vice President, MWH Global
Catherine Magliocco, Project Manager, Tampa Electric Company
Sandy Fabritz-Whitney, Director of Water Resources, Freeport-McMoRan Inc.
Katherine Oven, Deputy Operating Officer, Santa Clara Valley Water District
Erik Anglund, Water Resource Engineer, Anadarko Petroleum
Tracy Young, Growth Technologies R&D Director, Dow Water & Process Solutions
Audrey Templeton, Corporate Environmental Manager, MillerCoors
William Sarni, Director and Practice Leader, Enterprise Water Strategy, Deloitte Consulting LLP
Stephen Harper, Global Director, Environment and Energy Policy, Intel Corporation
Paul Jacobs, New Nuclear Project Engineering Manager, Florida Power & Light Company
Dr. John Walsh, Director, Consulting Services, Cetco Energy Services
Drue Ann Whittecar, Director, Environmental & Sustainability Engineering , National Oilwell Varco
D. Steven Tipton, P.E., Senior Consulting Engineer, ALL Consulting, LLC
Kent R. McManus, P.E. BCEE, Vice President of Engineering, Eureka Resources, LLC
Water technology: scale is the biggest challenge for water technology. Part of the problem is the risk averse and fragmented market – but top executives attending The American Water Summit will work towards a better solution by asking the right questions, including: how does utility technology leadership make a difference? Which new technologies should the industry support? How can the experience of drought be used to advance innovation? Can the mismatch between the challenges customers face and the technologies that are being developed be addressed?
Speakers include:
Albert H. Cho, Vice President, Strategy and Business Development, Xylem Inc.
Sally C. Gutiérrez, Director, Environmental Technology Innovation Cluster Development and Support Program, U.S. EPA
George Hawkins, General Manager, District of Columbia Water and Sewer Authority (DC Water)
James P. McQuarrie, P.E., Chief Innovation Officer, Metro Wastewater Reclamation District, Denver
Debra Shore, Commissioner, Board of the Metropolitan Water Reclamation District of Greater Chicago
Debra G. Coy, Partner, XPV Capital Corporation
Tom Pankratz, Independent desalination consultant and editor of GWI's weekly Water Desalination Report
Scott Bryan, President, Imagine H2O
Moderator: Robert MacLean, President, California American Water and Hawaii American Water
James Eklund, Director, Colorado Water Conservation Board
Gregory J. Walch Esq., General Counsel, Southern Nevada Water Authority (SNWA) and the Las Vegas Valley Water District (LVVWD)
Adam Lovell, Executive Director, Water Services Association of Australia
Tam Doduc, Board Member, California State Water Resources Control Board
Lisa Marchewka, Vice President, Global Strategic Marketing, Pall Corporation
Martin L. Adams, Senior Assistant General Manager - Water System, Los Angeles Department of Water and Power
Dr. Ken Carlson, Director, Center for Energy and Water Sustainability, CSU Energy Institute
Tom W. Sigmund, P.E., Executive Director, NEW Water, Green Bay Metropolitan Sewerage District, WI
Other items on the program include a keynote address from Jacqueline Hinmann, CEO of CH2M, Harlan L. Kelly of City & County of San Francisco Public Utilities Commission and Richard Adkerson, CEO of Freeport-McMoRan Inc. The opening keynote will be followed a roundtable session in which insight leaders will hold tightly focused discussions to explore industry trends and developments. The closing panel on day two will be led by Mayors' from a number of progressive American cities will share their experience in implementing P3s and working with the industry to solve water problems together.
The conference will also include a half day pre-conference strategy workshop to provide insight into the forces that will move the global water market over the next twelve months and beyond. Hosted by GWI's research team, it is designed to help businesses working within the sector to formulate their strategy in the international water business, discussing: the end of the commodities supercycle; Prospects in India and China; New technology; Alternative business models; Sales channels and customer propositions; The project market and M&A investment trends.
For more information about The American Water Summit visit http://www.americanwatersummit.com and follow developments on Twitter: @USAWaterSummit
-End-