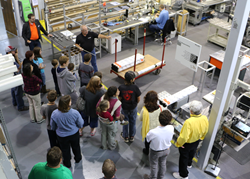 Looking to the future of manufacturing, we need skilled and excited people for automation.
Florence, KY (PRWEB) October 06, 2015
In celebration of Manufacturing Day 2015, Balluff opened its doors on October 2nd to more than 100 students and community members as part of an effort to change perceptions about today's manufacturing environment and draw attention to the outstanding opportunities that a career in manufacturing can provide.
The event included several hands-on sensor learning labs, tours of the facility, and product and technology demonstrations. Students also experienced automation in action firsthand in the new Balluff Demo Van equipped with the latest automation solutions.
"We were excited to participate in our first Manufacturing Day Event and invite local students to see how manufacturing plays an important role in our community," stated Will Healy III, Strategic Marketing Manager for Balluff. "Looking to the future of manufacturing, we need skilled and excited people for automation. This demands that we encourage and invest in manufacturing events in our community and STEM programs at schools to help develop the next generation," added Healy.
Manufacturing Day is an annual national event executed at the local level supported by thousands of manufacturers as they host students, teachers, parents, job seekers and other local community members at open houses, plant tours and presentations designed to showcase modern manufacturing technology and careers.
Manufacturing Day is co-produced by the Fabricators & Manufacturers Association, International (FMA), the National Association of Manufacturers (NAM), the Manufacturing Institute (MI), the National Institute of Standards and Technology's (NIST) Hollings Manufacturing Extension Partnership (MEP), and guest producer Industrial Strength Marketing (ISM).
Balluff supports several science, technology, engineering, and math (STEM) initiatives for students in the local community and participates in TECHFIT (Teaching Engineering Concepts to Harness Future Innovators and Technologists) programs at Purdue University and The College of Charleston. Balluff also supports educational opportunities with their student co-op programs, partnering with several local colleges and universities.
More information on Manufacturing Day is available at http://www.mfgday.com.
Learn more about Balluff at http://www.balluff.us
More Photos available on Flickr