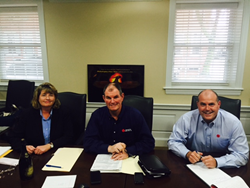 We were incredibly fortunate to find such a great space so close to our previous location. We had hoped to limit the impact the relocation would have on our contractors, suppliers and employees
Conshohocken, PA (PRWEB) October 05, 2015
Philadelphia Floor Store (PFS), the nation's leading hardwood flooring distributor, recently took ownership of a warehouse facility located in King of Prussia, Pennsylvania. The 45,000 square foot facility, situated on 3.63 acres, will serve as the company's North American Headquarters. PFS had temporarily relocated operations to Delaware County, PA following a May fire that destroyed their offices and warehouse.
The new facility is approximately two miles from Philly Floor's previous location in Conshohocken, PA, and is double in size. According to Mike Glavin, founder of PFS, "We were incredibly fortunate to find such a great space so close to our previous location. We had hoped to limit the impact the relocation would have on our contractors, suppliers and employees. The building is ideal in terms of access to local highways and proximity to our customer base."
In addition to the location, the size of the building was also a determining factor. Philly Floor plans to expand the size and scope of their business in the next several years and was looking for a space that could accommodate growth. "This really is the perfect building for us. The additional space will allow us to enhance operational efficiencies, increase production capabilities, and grow the business in accordance with our long-term goals and objectives," continued Glavin. PFS plans to release more information on the expansion in the upcoming weeks.
In addition to the Pro Shop, Repair Center, and Showroom – staples at the previous location – the King of Prussia site will offer several new features that are currently in development. Philly Floor plans to move to their new location in early 2016. The company's phone and fax numbers will remain the same.
To order hardwood floor supplies visit phillyfloor or call 800-737-1786. Counter service is temporarily suspended until PFS moves to their new location.
###
About Philadelphia Floor Store
PFS is a leading provider of unfinished and prefinished hardwood flooring and accessories including stains, finishes, abrasives, flooring tools, and sanding equipment. Family owned and operated, PFS has been serving hardwood flooring contractors for more than 20 years and provides the expertise needed to install and maintain hardwood floors.
The company offers all the top name manufactures including, Aacer, Century, Norton, Lagler, 3M, Clarke, Bona, Basic, Primatech, Bostick, and more. The company's in-house resources include a top-ranked Machine Repair Center, Rental Center, In-house Chemist, and Gym Floor and Wood Floor Consultants. PFS educates customers via personalized service, online training materials, videos, and free events.
To visit PFS on Facebook, click HERE, or you can follow the company on Twitter at @PhillyFloor. For product information and training videos, visit the company's YouTube channel or Blog. For media inquiries, contact Caran Baxter at caran.baxter(at)phillyfloor(dot)com or call 610-940-5757.