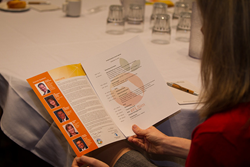 "The Simulation's schedule highlighted the unlimited potential for the industry," said Joseph Sefcik, Employment Technologies' President.
Winter Park, FL (PRWEB) October 06, 2015
Employment Technologies was honored to serve as an official sponsor for the inaugural Florida Simulation Summit in September, sponsored by Orange County (FL) Mayor Teresa Jacobs and the National Center for Simulation. The first-ever gathering highlighted the state's multi-billion dollar simulation industry through a series of field-focused panel discussions covering education, entertainment, medical, and transportation. Emerging technologies included manufacturing, cyber security, and energy.
Employment Technologies President Joseph Sefcik said, "We were pleased to support this exciting endeavor in our community, joining with other educational and business leaders, such as University of Central Florida and Nemours.
Mayor Jacobs opened the day with an overview of the industry that is responsible for an overall $8 billion economic impact in the State of Florida. "Simulation is used in so many different industries, and local companies are using technology that's been developed right here to improve efficiency and operations."
U.S. Congressman John Mica was in attendance and expressed his support of the industry. "Simulation allows us to set the highest standard for systems and human achievement," touted Mica. "And the good news is that we've just scratched the surface."
"Since our founding 20 years ago, Employment Technologies has embraced the role of simulation in the hiring process. It is great to participate and be a part of a burgeoning and vibrant industry," said Sefcik.
ABOUT EMPLOYMENT TECHNOLOGIES
Employment Technologies is the pioneer and world's leading developer of employment simulations. An unprecedented five-time national Top HR Product of the Year award winner, the company's EASy Simulations are proven to hire the best, reduce training time, cut turnover, accelerate performance, and deliver the highest return on investment. EASy Simulations are custom-designed for a variety of jobs and industries, including customer service, contact centers, financial services, retail, hospitality, healthcare, and more. For more information, please visit us at http://www.EmploymentTechnologies.com.