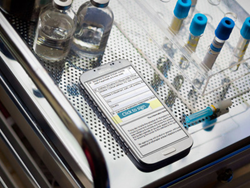 This IMPACT sponsorship means SIGNiX will share the highest level of commitment toward the mission of the Global Site Solutions Summit, and we're excited to share how e-signatures can maximize clinical research productivity with attendees
Chattanooga, TN (PRWEB) October 05, 2015
SIGNiX, a leading Independent E-Signature™ service provider, announced today their IMPACT sponsorship for the Global Site Solutions Summit, an event dedicated to helping clinical research sites reach optimal performance.
"This IMPACT sponsorship means SIGNiX will share the highest level of commitment toward the mission of the Global Site Solutions Summit, and we're excited to share how e-signatures can maximize clinical research productivity with attendees," said Jay Jumper, CEO of SIGNiX. "Independent E-Signatures™, in particular, are the ideal fit for companies in the life sciences and clinical research space because these digital certificate-based signatures meet key industry regulations, like 21 CFR Part 11, and provide the highest level of security and encryption."
SIGNiX has proven its e-signature success with clinical research organizations. Last year, the Independent E-signature™ provider partnered with a top clinical research organization to reduce the time required to sign clinical trial documents. During the pilot implementation, SIGNiX was able to reduce physicians' signing time by 94 percent while saving approximately $250,000 in paper-related costs.
In addition to providing an IMPACT Sponsorship, SIGNiX will be an exhibitor at the Global Site Solutions Summit. The event takes place October 8-11 at the Omni Amelia Island Plantation Resort on Amelia Island, Florida. SIGNiX can be found at booths one and two.
About SIGNiX: SIGNiX, the most trusted name in Independent E-Signatures™, makes signing documents online safe and secure with comprehensive legal evidence permanently embedded in each document to eliminate any dependence upon SIGNiX. The company's cloud-based service uses patented technology to give businesses and organizations the most secure and legally defensible e-signatures available at a fraction of the cost of wet ink signatures. SIGNiX's products help the world's leading companies become more efficient, secure, profitable and – by reducing the use of paper – environmentally friendly.
For more information, visit http://www.signix.com. Anyone interested in forming a partnership with SIGNiX to implement the best independent e-signature service for their business can visit http://www.signix.com/digital-signature-partnership, or call 877.890.5350.
About Global Site Solutions Summit: The Global Site Solutions Summit is the annual meeting of The Society for Clinical Research Sites (SCRS). The event brings together leaders from the continuum of the clinical research process, including research site executives and professionals; executives from Sponsors and CROs; and other senior-level industry representatives. In a collaborative setting, these stakeholders tackle the business challenges they face and identify best practices to meet those challenges. For more information, visit http://www.sitesolutionssummit.com.