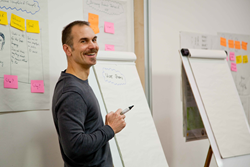 An inspiring course that allowed me to think more strategically on how to lead teams in a large and complex organisation. I am taking away some great techniques to try out.
(PRWEB UK) 13 October 2015
Working as a Product Manager or a Product Owner is simultaneously rewarding and challenging. Having the opportunity to create a new product that make users' lives easier or better is exciting and energising. However aligning, guiding, and influencing the various stakeholders can feel like herding cats.
This interactive and engaging workshop teaches Product Managers and Product Owners the skills they need to be inclusive, engaging, inspiring and successful product leaders.
Seats are limited for this collaborative workshop. To book a seat now or for more information visit http://www.romanpichler.com/training-courses/leadership-skills-workshop-product-managers-product-owners
About Roman Pichler
Roman is a leading product management expert specialising in lean and agile methods. He has an outstanding track record in teaching and coaching product leaders. Roman is the author of the acclaimed book "Agile Product Management with Scrum" and writes a popular blog at http://www.AllThingsProductOwner.com
About Geoff Watts
Geoff is an experienced and passionate leadership coach who works with bold, forward-thinking leaders to create engaged, creative, autonomous teams and develop a culture of reflection and empowerment. He is the author of the popular books Scrum Mastery: From Good to Great Servant-Leadership and The Coach's Casebook: Mastering the Twelve Traits That Trap Us. Find out more at http://inspectandadapt.com/