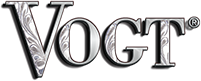 We've worked very closely on a variety of projects with M.L. Leddy's throughout the years; it's a very tight, creative relationship that is as much personal as it is business.
Woodland, CA (PRWEB) October 08, 2015
Vogt Silversmiths has just announced a partnership launching a new collection of buckles and buckle sets under a private label collaboration with M.L. Leddy's of Fort Worth, Texas. M.L. Leddy's, a western retail destination located in the historic Fort Worth Stockyards, has been renowned for hand crafted, custom boots and saddles since 1922.
The partnership between Vogt Silversmiths, a leader in the design and hand crafted construction of sterling silver buckles, buckle sets and accessories for the Western Lifestyle market, was developed over 40 years ago. Casey Vogt, owner of Vogt Silversmiths expressed that this expansion of the M.L. Leddy's product offering is yet another chance for the two successful businesses to collaborate.
"We've worked very closely on a variety of projects with M.L. Leddy's throughout the years; it's a very tight, creative relationship that is as much personal as it is business," said Vogt. "This was another avenue for us to help them expand their product line and open it up to a new customer base. It's a fantastic relationship."
Throughout their history, M.L. Leddy's has evolved from a traditional boot and saddle maker to a fine clothier, offering men's and women's clothing, hats, hatbands, exotic and calfskin wallets and hand tooled leather belts. M.L. Leddy's has developed and fostered a long-standing following and a wide-ranging customer base; from oil and gas executives, to ranch and livestock entrepreneurs, to tourists, M.L. Leddy products appeal to just about everyone who comes into contact with them. The heart of their business is still a handmade, western cowboy boot, thought by some to be some of the finest in the nation, if not the world. Customers will anxiously wait a year or more for a single pair. With additional venues in San Angelo and the chic Western boutique, Leddy's Ranch at Sundance, also located in Fort Worth, M.L. Leddy's outfits the people from all walks of life.
Another integral part of the M.L. Leddy's business has been the hand crafted, sterling silver, ranger-style and dress buckles created by Vogt Silversmiths. Each of the Vogt Silversmiths designs are hand-crafted, hand engraved featuring either 14-karat or 14-karat gold fill accents, depicting traditional western imagery such as figures of longhorns, 3-dimensional stars and hand twisted rope edges.
The new Leddy Vaquero Series incorporates the craftsmanship and artistry of the Vogt Silversmiths sterling silver buckle sets and accessories, using a sterling plated base and 10-karat gold fill accents, offering a more affordable approach to a hand-crafted, traditional buckle set. By offering a wider range of retail, price points and additional designs, the Leddy Vaquero Series is expected to gain additional exposure for Vogt Silversmiths and M.L. Leddy's. The Vaquero Series originated with the inception of an in-stock boot program, featuring the craftsmanship of a 3rd generation bootmaker from Old Mexico and has been expanded to include the Vogt Silversmiths designs, as well as hand-tooled leather belts and a collection of cowboy hats.
The launch is intended to coordinate with the Leddy Vaquero boot program.
The private label relationship proves to be mutually beneficial for both companies: Vogt Silversmith makes the custom buckles and M.L. Leddy's sells the product under their name. The arrangement provides Vogt Silversmiths with the opportunity to design pieces for M.L. Leddy's deep Texas clients.
About Vogt Silversmiths
Vogt Silversmiths is a maker of sterling, hand engraved belt buckles, men's accessories, western jewelry, leather items, and more. Their pieces are each individually handmade and hand engraved, and are protected by a lifetime guarantee. To learn more about their products, visit http://www.VogtSilversmiths.com.