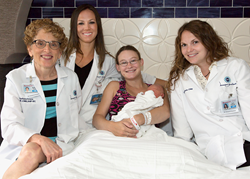 Lake Orion, Birmingham, Clarkston, Metamora, Michigan (PRWEB) October 05, 2015
Women's Excellence and the American College of Nurse-Midwives (ACNM) invite the public to learn about midwifery during National Midwifery Week, October 4-10.
This annual event brings women, families, and midwives together to empower women to make informed choices about their health care. The high rate of cesarean sections, skyrocketing health care costs, and misperceptions about midwives and women's health are among the reasons ACNM and its more than 7,000 midwife members observe National Midwifery Week each year. The week also highlights 80 years of midwifery care in the United States. Women's Excellence plans to increase public awareness of National Midwifery Week and the contributions made by midwives through their social media pages and website, http://www.womensexcellence.com.
National Midwifery Week is supported by ACNM, its members, physicians, and women's health organizations across the nation. For more information about midwifery and midwives, visit http://www.ourmomentoftruth.com.
Women's Excellence is the most comprehensive obstetric and gynecologic office in Michigan. They also specialize in menopause, weight control, bladder control, endometriosis, robotic surgery, pelvic floor physical therapy, and midwifery services. The knowledgeable, well-trained, compassionate physicians and healthcare providers of Women's Excellence are taking new patients and are conveniently located in four locations throughout southeastern Michigan, Birmingham, Lake Orion, Clarkston and Metamora. For more information, visit http://www.womensexcellence.com.