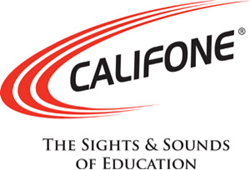 San Fernando, CA (PRWEB) October 06, 2015
As gaming continues to be implemented in classroom instruction, having tools that serve educational and recreational needs is becoming increasingly critical. Califone International LLC, a leader in the design, development and manufacturing of audiovisual (AV) and supplemental curriculum products for use in education, announces the release of two gaming headset models designed for an immersive educational-gaming experience. The GH507 Gaming Headset and the GH131 Gaming Headset feature surround sound and microphone-enabled chat features to support team video game play.
"The GH507 and GH131 are specifically suited for gaming," said Tim Ridgway, vice president of marketing for Califone. "We designed both headsets with superior surround sound quality and microphone to give users complete control of their gaming experience."
The GH507 and GH131 models are customizable with industry-standard 5.1 and enhanced 7.1 surround sound that enables 3D sound effects. Both models are equipped with cushioned earcups, adjustable headband and dual pivot points for comfort during gaming sessions on Xbox One, PlayStation and PC gaming systems. The GH131 model features a lightweight design for transportable gaming. For added versatility, the GH507 includes a detachable microphone and inline controls that easily unclip for audio-only listening on any smartphone, tablet, laptop, desktop computer or Chromebook.
The GH507 headset includes a 2-year warranty and the GH131 headset includes a 1-year warranty for purpose-built gaming.
For more information on the GH507 and GH131 gaming headsets, and to view and download the entire Califone catalog, visit http://www.califone.com.
About Califone
Califone was founded in 1947 and continues to be a leader in the design, development and manufacturing of audiovisual and supplemental curriculum products for use in education. The company's products enable educators to incorporate rich audiovisual resources into lessons that help students build speaking and listening skills, critical to the English Language Arts portion of the Common Core State Standards. Califone offers a complete line of audio solutions, wireless systems and multimedia products for small, medium and large presentation needs, and serves millions of educators and students in the PreK through higher education school environments.
Califone contact: Tim Ridgway, 800-722-0500, ext. 428, tim(dot)ridgway(at)califone(dot)com
PR contact: Kelsea Kierstead, 608-216-7300, ext. 24, kelsea(at)cblohm.com