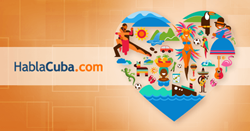 Atlanta, Georgia (PRWEB) October 07, 2015
Hard working, family-oriented, passionate about cooking and in love with good jokes; and these are only some of the qualities Latinos are known for. To celebrate the great things Latinos generally, and Cubans in particular, brought to this world, HablaCuba.com proclaimed October 15th as the official date for the celebration. Starting this year, HablaCuba.com will celebrate October 15th as Dia del Corazon Latino, for the first time in history.
Where do Latinos meet to celebrate Dia del Corazon Latino?
The celebration starts on HablaCuba.com Facebook page, on October 8th, with a challenge. Cubans worldwide are invited to imagine a world without the Latin spirit… Then they should switch back and think about what Latin spirit gave to the world. This way, HablaCuba.com will gather an interesting collections of the thoughts Cubans have about the Latino identity.
What does Dia del Corazon Latino mean?
Dia del Corazon Latino is all about:

celebrating Latinos worldwide, still living in their mother countries or living abroad
inviting Latino friends and families to come together, no matter the distance that might separate them
identifying more of the things that Latinos gave to the world heritage: food, fun, inventions, culture, sports, aso.
having fun.
To share their Latin pride, Cubans may call their families and friends from Cuba using the Voice Credit service HablaCuba.com offers. The rate for calling the family and friends still living in the Cuba is 69.9¢/min, both for landlines and mobiles. Beside Voice Credit, HablaCuba.com also offers mobile recharges, a service through which customers can recharge any Cubacel mobile. The process is fast and secure and the credit reaches its destination instantly.
HablaCuba.com is available both in English, Spanish, French and Italian, so customers can navigate using the language that is more familiar to them. Within the same purpose of finding easily the information needed, the website also offers 24/7 Customer Support, that may be contacted by email or phone.
About HablaCuba.com
HablaCuba.com is an interactive website designed by KeepCalling, a global telecommunications company registered in 2002 in USA. Presently, KeepCalling provides its services to hundreds of thousands of consumers and businesses, with a focus on customer satisfaction. KeepCalling has been listed by Inc 5000 as one of the fastest growing companies in the USA for 5 consecutive years. In 2015 the company registered a revenue increase of over 200% from 2011 to 2014