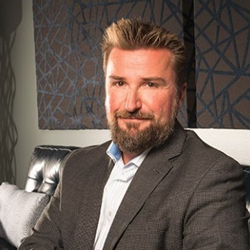 "We are excited to have Dan re-join the TruMarx Data Partners leadership team and help us achieve our next stage of company growth", said Jon Olson, CEO.
Chicago, Illinois (PRWEB) October 06, 2015
TruMarx Data Partners, Inc. the creator of COMET, the energy industry's innovative on-demand platform for custom bilateral OTC transactions, today announced that energy industry senior executive Dan Zastawny has re-joined the company as President.
Mr. Zastawny has over 20 years of leadership experience developing marketplaces and electronic trading in natural gas, power and crude oil markets. Dan has held senior management roles within the energy industry specializing in the areas of market development, electronic trading, risk management and regulatory compliance. His involvement in the formation and development of the Natural Gas Exchange (NGX) and the growth of Net Energy, Inc., brings tremendous experience to the TruMarx Data Partners team. Mr. Zastawny was part of the original TruMarx organization in 2011 helping develop COMET in Canada and the West Coast of the United States.
"We are excited to have Dan re-join the TruMarx Data Partners leadership team and help us achieve our next stage of company growth," said Jon Olson, CEO. "Our company is poised to expand aggressively and Dan's experience, knowledge and industry relationships will be tremendously valuable to us as we pursue our growth objectives," said Mr. Olson.
"I am excited to partner with Jon and the TruMarx Data Partners team again as the company moves forward aggressively in their exciting evolution,"said Mr. Zastawny. "The COMET platform is a tremendous innovation and is well positioned to provide solutions for the changing needs for today's energy industry."
Mr. Zastawny was most recently Chief Compliance Officer with Net Energy, Inc., where he led multiple key strategic projects for the company and facilitated the expanded use of hedging products for the Canadian crude oil markets and developing technology to support trading turnover and liquidity. Prior to that role, he served as Vice-President of Business Development for the business. Dan has held other prior industry executive positions serving as President and Founder of Grass Shack Analytics and multiple executive positions with Natural Gas Exchange, Inc., ("NGX"). Dan attended the University of Calgary and currently resides in Calgary, Alberta Canada.
About TruMarx Data Partners, Inc.
Headquartered in Chicago, TruMarx Data Partners, Inc. is an experienced team of energy professionals with an established track record in delivering powerful technology solutions for today's energy market challenges. Led by Jon B. Olson, a twenty-five year veteran CEO in the energy markets, the core team has been together for nearly 20 years, developing successful software products, data solutions, and custom projects for energy customers around the globe. Using the internet as a delivery system and employing an open architecture, the team specializes in the connection of large communities of transactors via web-enabled software tools and the normalization of complex proprietary transactional data, so that disparate counterparties all speak the same "language". In addition to winning multiple awards for software innovation and data management, the TruMarx team has helped hundreds of energy market participants, such as exchanges, brokers, producers, consumers, and industry associations, achieve operational efficiency and market leadership.
For more information on TruMarx or COMET visit http://www.trumarx.com or call 844-TRUMARX (844-878-6279)
Media Contact
For all media inquiries, contact:
Greg Crosby
Chief Marketing Officer
(319) 621-2424
gcrosbytrumarx(at)gmail(dot)com