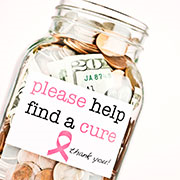 A strong effort to develop a creative labeling program that helps one or more of the causes recognized during Awareness Month will go a long way toward customer engagement and loyalty.
Denver, CO (PRWEB) October 08, 2015
October is Awareness Month for Many Businesses
Although plenty of months are filled with days that recognize certain causes, October is among the heaviest weighted among companies, making it an exceptional time to get moving on more advanced labeling strategies. There is perhaps no better time to build brand images and contribute to various awareness initiatives than this month, as well as the busy holiday shopping that kicks off in November.
Businesses can draw attention to charities and events through the use of custom labels and stickers, especially when the design of those items pop off the product and catch the eyes of consumers in target markets. Awareness month labels can further improve brand recognition while making it clear to clientele that the company is committed to important causes, and now is the time to get a start on these projects.
Awareness Month Stickers
Leaders will certainly want to ensure that branded products are properly labeled for the awareness cause they are supporting, but this is not the only way to approach these matters. Rather, companies can also print out stickers and distribute them to clientele so they can display the items and raise awareness themselves, which will inherently work in favor of the business as well.
October hosts a range of awareness programs, including those related to Alzheimer's, breast cancer, bullying prevention, cybersecurity, domestic violence and Hispanic heritage. If firms have not yet considered participating in one of these awareness initiatives, they might want to start doing so this year, as studies have shown that the modern consumer is more interested in corporate philanthropy and ethics than those of previous generations.
"Business leaders have a unique opportunity in October to position their brand in a highly advantageous fashion," Scott Proctor, VP of Sales at Lightning Labels, explained. "A strong effort to develop a creative labeling program that helps one or more of the causes recognized during Awareness Month will go a long way toward customer engagement and loyalty."
By aligning the company with one of these causes, decision-makers will be able to serve the community in an important fashion while simultaneously building a following of community-minded clientele. However, following the planning of these endeavors, businesses will need to ensure that they are selecting a custom label and sticker provider that can execute the orders quickly and accurately, shortening the turnaround time and making good on commitments to support the chosen cause.
Awareness Month Decals for the Win
Lightning Labels can help companies to capitalize on the opportunities involved during October through the distribution of awareness month decals, stickers and labels. These items can go a long way toward positioning the firm as a leader in the field, all the while putting the entirety of control in brand managers' hands when it comes to the imagery used and time frames during which the labels, decals and stickers will be out to clientele.
Lightning Labels offers free ground shipping, online ordering, some of the fastest turnaround times on orders and free samples to allow users to see the items for themselves before purchasing the full volume needed. At the end of the day, this can pay off dividends for initiatives related to Awareness Month this October.
About Lightning Labels:
Lightning Labels uses state-of-the-art printing technology to provide affordable, full-color custom labels and custom stickers of all shapes and sizes. From small orders for individuals to the bulk needs of big businesses, Lightning Labels is equipped to handle and fulfill custom label and sticker projects of all types. Best of all, like the name implies, Lightning Labels provides a quick turnaround for every customer's labeling needs. Uses for Lightning Labels' custom product labels and custom stickers include food packaging and organic food labels, wine and beverage labels, bath and body labels, and nutraceutical products, such as vitamins, essentials oils, and herbal remedies, as well as event stickers, adhesive window stickers and more. Lightning Labels strongly supports the development of environmentally friendly printing materials and carries EarthFirst PLA, a new kind of green label material made from corn instead of petroleum. While operating as a high-tech printer, Lightning Labels prides itself on its personalized customer service. Lightning Labels provides one stop shopping for all of your custom label needs. For more information and to place orders online, visit LightningLabels.com. For the latest in packaging news and labeling promotional offers, find Lightning Labels on Twitter (@LightningLabels), Facebook, Pinterest, Google and LinkedIn.