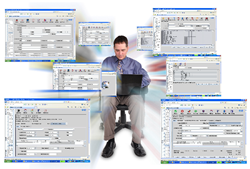 We are proud to support the fine work that they do and look forward to working toward this common goal for years to come.
Fort Washington, Pennsylvania (PRWEB) October 07, 2015
RAM Technologies, Inc., the perennial leader in the development of enterprise software solutions for healthcare payers is pleased to announce their continued support of the California Association of Health Plans (CAHP) and the CAHP Annual Conference to be held October 19th to 21st in Palm Desert, California.
"The California Association of Health Plans is integral in ensuring the availability of quality health care throughout the state," said Christopher P. Minton, Executive Vice President of RAM Technologies. "The organization addresses the important issues facing the health care industry both now and as we prepare for the future. We are proud to support the fine work that they do and look forward to working toward this common goal for years to come."
RAM Technologies develops revolutionary software to improve the administration of government sponsored healthcare. The RAM solutions, HEALTHsuite® Mercato and eHealthsuite™, are the leading solutions for Medicare, Medi-Cal and Cal-MediConnect (Medicare / Medi-Cal dual eligible program). The extensive capabilities provided by the RAM solution suite help health plans streamline operations and simplify compliance in the administration of these programs.
HEALTHsuite Mercato is an enterprise application with fully integrated functionality to automate all aspects of enrollment, eligibility, benefit administration, provider contracting and reimbursement, care management, utilization and medical management, claims administration, subrogation / overpayment recovery, customer service, premium billing, fulfillment, reporting and more.
eHealthsuite, RAM's flexible and secure web portal product, enables healthcare payers to better serve their members and providers while reducing the cost of these services. The self-service capabilities of eHealthsuite allow a health plan's constituents to access their information and conduct real-time transaction processing, 24 hours a day, via a secure Internet connection.
The 2015 CAHP Annual Conference will focus on the impact rapid expansion has had on the California health insurance landscape. This year's event will feature seminars by leading voices in the health insurance industry including Peter Lee, Executive Director of Covered California, Mari Cantwell, Chief Deputy Director of Health Care Programs for the Department of Health Care Services (DHCS) and many others.
About California Association of Health Plans (CAHP)
The California Association of Health Plans is a statewide trade association representing 40 full-service health plans. Their mission is to serve the member health plans by creating and sustaining an environment that permits them to maintain viability and grow as organizations dedicated to coordinating or providing high quality, affordable, accessible health care to their members. For more information, please visit calhealthplans.org or call (916) 552-2910.
About RAM Technologies:
RAM Technologies is the leading provider of enterprise claims processing software and claims adjudication software for health plans. For over 34 years RAM Technologies has led the way in the creation of Medicaid software solutions, Medicare software solutions and software for dual eligible processing (the Medicare-Medicaid Financial Alignment Initiative). RAM Technologies has been recognized on Inc. Magazine's List of Fastest Growing Private Companies and the Philadelphia Business Journal's List of Top Software Developers for their advancements in the creation of comprehensive managed care software for Medicare and Medicaid administration. To learn more about RAM Technologies call (877) 654-8810 or visit ramtechinc.com.