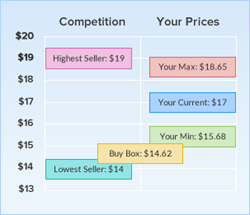 As much as 80% of all Amazon sales are made through the Buy Box.
Derry, Londonderry (PRWEB UK) 7 October 2015
Lucid Interactive, the company behind RepricerExpress has been delivering Amazon repricing solutions to third party sellers for almost a decade now and the addition of a host of new features that utilise the Amazon Subscriptions API will allow third party sellers to obtain the Buy Box more often and subsequently increase their sales.
"The speed in which it reprices is fast and helps us secure buy boxes at the snap of the fingers. The user interface is friendly and makes it easy to navigate around. It does what it's supposed to! RepricerExpress has helped keep us win the Buy Box so we can focus more on providing great customer service", explained Luke from Ark Stores UK.
Since the Buy Box is so prominent and linked to the 'Add to Basket' button on Amazon, any seller with placement in it, will guarantee more sales. In search terms, the Buy Box is effectively the first result of a customer's search for a specific product, and the one that they are likely to click most to complete a purchase.
Last year, Amazon's revenue was close to $90 billion, with more than $72 billion of sales coming through the Buy Box and third party sales hitting 2 billion units.
Price is so closely linked to sales and product visibility on Amazon that sellers need to continually ensure their products are priced competitively. If you have hundreds or thousands of products, doing this manually isn't viable. That's where repricing software shines: it allows Amazon sellers to automatically compare their product prices to those of competitors' and adjust them accordingly.
The features RepricerExpress has introduced this year are significant due to the use of Amazon's Subscriptions API for seller data. Amazon's new Subscriptions API means that sellers are able to filter their competitors with much greater control and only compete against similar sellers instead of reducing their prices against non-featured merchants and those who aren't eligible for Buy Box placement.
Features now include the ability to:

compete with different sellers in different ways,
to test in Safe Mode (whereby you can try repricing without affecting your live marketplace listings),
reprice across eight Amazon marketplaces,
include or exclude specific sellers,
filter competition based on seller rating, feedback, shipping country and dispatch times,
go into sleep mode and push prices up nightly
auto-enable price increases under common scenarios.
Recently, RepricerExpress responded to customer feedback in time for what's set to be Amazon's busiest quarter ever, further adding:

Auto removal of inactive SKUs
Ability to delete SKUs from repricing altogether
Ability to view stock quantities on all your listings
All features are geared towards saving sellers time, maintaining competitive prices for more Buy Boxes and showing valuable data that can help them make informed decisions about their pricing strategies.
Security features have also been improved and built upon. RepricerExpress will not reprice listings that don't have a min and max value set (floor and ceiling prices), nor will it reprice below or above those values, with checks in place to ensure this is the case. Further protection comes from Amazon's own safety measures that have been added to sellers' accounts to avoid potential Amazon pricing errors. Amazon will notify sellers when any potential pricing errors are detected and deactivate those listings that are affected.
As RepricerExpress is online and 'talks' directly to your Amazon account, there is nothing to install or set up outside of the app—you can be up and running and trying repricing live or in Safe Mode (won't affect live listings) within 30 minutes, and with our specialist support staff on hand to help you along the way, there's no better time to try Amazon repricing.
About Repricerexpress
RepricerExpress is a standalone repricing tool for Amazon third party sellers, designed to help increase online sales by maintaining competitive prices across all channels and listings. Developed by Lucid Interactive Ltd, the cloud based solution is the culmination of over 10 years experience of dynamic repricing in ecommerce. Today, it supports Amazon international marketplaces with plans underway to expand into other marketplaces such as eBay and Rakuten.