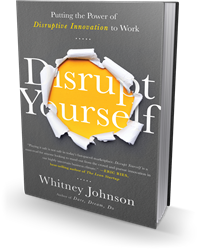 Disruptive companies and ideas upend markets by doing something truly different.
Boston, MA (PRWEB) October 06, 2015
Bibliomotion, Inc. is thrilled to announce the launch of 'Disrupt Yourself: Putting the Power of Disruptive Innovation to Work' by Whitney Johnson.
"As the pace of disruptive innovation quickens and you are in the midst of a crashing wave, what is unsettling can also be an amazing ride. This book isn't about simply coping with the force of disruption, but harnessing its power and unpredictability, learning to ride its waves, and to disrupt yourself." − Whitney Johnson, Disrupt Yourself
Consider this simple yet powerful idea: disruptive companies and ideas upend markets by doing something truly different—they see a need, an empty space waiting to be filled, and they dare to create something for which a market may not yet exist.
As president and co-founder of Rose Park Advisors' Disruptive Innovation Fund with Clayton Christensen, Johnson utilized the theory of disruptive innovation to invest in publicly traded stocks and private early stage companies. In DISRUPT YOURSELF: Putting the Power of Disruptive Innovation to Work (Bibliomotion, Inc.; October 6, 2015), Johnson will help you understand how the frameworks of disruptive innovation can apply to you both personally and professionally.
Through her S-curve model, Johnson helps individuals and organizations understand the psychology of self-disruption. Using this model as the framework for the book, she reveals the seven levels you will encounter as you master your curve. Here are a few ways that groups, companies, and individuals have mastered each layer of their learning curve:
1. Take the right risks: A decade ago, faced with a declining student enrollment, South New Hampshire University chose to play where no one else was playing—online. SNHU now has thirty-four thousand students enrolled in its online degree program.
2. Play to Your Distinctive Strengths: When Jayne Juvan started using social media, very few lawyers used these tools. In her first year of practice, she landed a client via social media. She made partner at age thirty-two; the fact that prominent professionals followed her on Twitter bolstered her case in a major way.
3. Embrace Constraints: When Athelia Woolley LeSueur's career in international development was derailed, she started Shabby Apple, an online dress shop. Unaware of the industry practice of hiring expensive wholesalers, she simply set up an online shop, saving much needed cash and avoiding unreliable partners. Her skirting of industry protocol contributed to the success of Shabby Apple, which generated revenue of nearly $2 million in 2014.
4. Battle Entitlement: Janssen, the pharmaceuticals arm of Johnson & Johnson, overcame cultural entitlement with its launch of "Immersion". This global health program identifies specific problems in specific locations — like hepatitis C in Romania or aging in Poland — then assembles small, cross-silo teams and gets them in-country to find ways to better deliver health-care access in that emerging market.
5. Step Down, Back, or Sideways to Grow: Due to a lack of demand, Tractor Supply watched stores close and revenue decline. New owners discovered that, while the number of commercial farmers was decreasing, hobby farming was on the rise. By pivoting away from tractor parts, and toward general farm and ranch supplies, Tractor Supply has grown to 1,400 stores with revenue north of $5 billion.
6. Give Failure Its Due: Riot Games, creator of the popular online game League of Legends, has chosen to address its failures by communicating directly with its users and using humor, often of a self-deprecating variety. By not taking itself too seriously, Riot has generated fan empathy and fidelity.
7. Be Driven by Discovery: In 2014, Korn Ferry International, the world's largest executive search firm, conducted a study to understand what sets top-performing executives apart. Its research showed that while technical competencies were a starting point, a leading predictor of C-suite success is insatiable curiosity and a willingness to learn.
"Self-disruption will force you up steep foothills of new information, relationships, and systems," Johnson explains. "The looming mountain may seem insurmountable, but the S-curve helps us understand that if we keep working at it, we can reach that inflection point where our understanding and competence will suddenly shoot upward."
Disruption can feel a bit scary, but the payoff of career growth and personal achievement makes overcoming the fear factor well worth it. We all start at the low end of the learning curve. DISRUPT YOURSELF will teach you how to shift into hyper-growth and, when your learning crests, to do what great disruptors do: catch a new wave.
Whitney Johnson is the leading thinker on driving corporate innovation through personal disruption. She cofounded Rose Park Advisors, a boutique investment firm, with Clayton Christensen, and was an Institutional Investor-ranked analyst for eight consecutive years, including at Merrill Lynch. She is a frequent contributor to the Harvard Business Review, and the author of Dare, Dream, Do: Remarkable Things Happen When You Dare to Dream (Bibliomotion 2012). She was named a Future Thinker Finalist by Management Thinkers50 in 2013, and one of Fortune's 55 Most Influential Women on Twitter in 2014. Johnson is cofounder of the Forty Over 40 List, recognizing women who are reinventing, disrupting, and making an impact. She is represented by the New Leaf Speakers Bureau along with other key thought leaders in innovation and business. Visit Whitney at http://www.whitneyjohnson.com.
An Interview with Whitney Johnson, Author of Disrupt Yourself
Q: What prompted you to write this book?
My "a-ha" moment came when I was reading The Innovator's Dilemma by Clayton Christensen in 2005. As an equity analyst, I was already persuaded that the frameworks of disruption explained why mobile penetration in Mexico was quickly outpacing fixed-line penetration. But as I read the book closely, I wondered, do these frameworks also apply to individuals? And, if innovation is an inside game, can an organization truly drive corporate innovation without personal disruption?
In 2006, I had the privilege of co-founding a boutique investment firm with Clayton Christensen, the father of disruptive innovation. As I immersed myself in applying these frameworks to investing, my ideas around personal disruption began to coalesce, beginning with one-off articles in the Harvard Business Review. In truth, though, this book would not be in your hands, if my publisher, Erika Heilman, and agent, Amy Gray, hadn't said enough already: "Stop talking. Start writing." Or in the words of my editor friend, Melissa Stanton, "Don't just think it, ink it."
Q: How do you define "personal disruption"?
Personal disruption (n.) is the act of using a practice employed by companies – wherein a product deemed inferior by the market leader (Amazon v. Borders, Uber v. Yellow Cab) eventually upends the industry – and applying it to yourself and your career.
Q: What are some of the biggest challenges companies and individuals face when trying to disrupt?
As a start-up, or early in your career, you are scrambling, but you also have little to lose. Deciding to disrupt is easy. As you become more established, disrupting yourself could mean a loss of prestige, power and cash flow. Intellectually you know there is really no such thing as standing still, but it's so easy to be dulled to danger when everything is working. Which is why we call it the "innovator's dilemma."
Q: What is the S-curve? How can companies and individuals use it to understand personal disruption?
Developed by E.M. Rogers in 1962, the S-curve model is an attempt to understand how, why, and at what rate ideas and products spread throughout cultures. Adoption is relatively slow at first, at the base of the S, until a tipping point or the knee of the curve is reached, which typically is between 10-15% market penetration. You then move into hyper-growth, up the sleek steep back of the curve. At 90%+ you reach saturation.
What's really exciting and fascinating about the S-curve is that it also helps us understand the psychology of disruption. If you've just started a new business or taken on a new role, S-curve math tells you progress will be slow. This helps avoid discouragement. As you put in the hours of practice, you'll accelerate into your competence, synapses firing, and a feeling of wellbeing. Then, as you approach
mastery, because you are no longer enjoying the feel good effects of learning, boredom and complacency can kick in. If you don't jump to a new curve, your plateau can become a precipice.
Q: In chapter 3, you discuss the power of "working within limits." What are some ways small businesses budding entrepreneurs could benefit from constraints?
Whenever we start something new, most of us want lots of feedback on how we are doing, as quickly as possible. One of the best ways to get that feedback, or information as to what's working, is to impose constraints. A business is no different. Except that in starting a business, you don't usually impose constraints, you have to embrace them. When it's do-or-don't eat, you are highly motivated to get the business model right. You aren't asking how can I make money in a year, but how do I generate cash tomorrow? So you make choices. Get scrappy. Barter. You discover an embarrassment of riches already on hand. You become successful not in spite of, but because of, your constraints.
Q: You talk about "failure" in chapter 5. How can large companies use the elements of disruption to recover from failure?
In an early draft of the manuscript, the title of the chapter was Put Failure in its Place, until I realized I was giving failure short shrift. It is in failing, we learn. In learning, we innovate. The rub is that from the time we are children, we learn to abhor and shrink from failure, our identity based on what we achieve.
So, how do you as a company short-circuit this hard-wired need to succeed? First, recognize it's a matter of when, not if. Second, observe whether your team tries to hide their failures from you. Third, if they do, consider if you've got the right people on board. If you believe enough in a person, and you are willing to allow for some mistakes, start compensating them for one failed idea per quarter. The premise being that if you make a good faith error, you are all-in. Fourth, don't buy into shame. For you or your people. Failure doesn't push you back down your personal curve of disruption. Shame does. Fifth, ask what important truth did I learn because of this failure? Fail. Learn. Innovate. Repeat.
Q: What advice can you give to millennials and recent graduates, who are just beginning their S-curve?
At the start of your career, everything – people, ideas, and places – is new. As you work to achieve your pay-to-play career milestones, you may feel you don't know what you are doing. This is normal at the low end of the curve. So take heart. Then, once you get these basic skills, focus on what you do well that others in your organization don't. These are what I call distinctive strengths. Play to them. Pair them with your pay-to-play skills and you'll explode into competence and confidence. This is the exhilarating part of the curve – and your career.
Praise for Disrupt Yourself
"Johnson, a Merrill Lynch equity analyst turned entrepreneur, shows how and why to upend a career in this practical, concise work. Savvy and often counterintuitive, this superb book offers the tools, mind-set guidance, and rationale for avoiding complacency and embracing a new career path." – Publishers Weekly
"Playing it safe is not safe in today's fast-paced marketplace. Disrupt Yourself is a must-read for anyone looking to stand out from the crowd and pursue innovation in our highly uncertain business climate." – Eric Ries, bestselling author of The Lean Startup
"I have used the word 'disruption' to understand how some companies blossom while others wither. Whitney has applied the word in a different context – to understand why some individuals succeed in remarkable ways. Enjoyed this book!" – Clayton M. Christensen, Harvard Business School, NYT best-selling author of The Innovator's Dilemma
"Too often we're told that to be successful in leadership or business, we must fit a certain mold. Whitney Johnson knows better. Applying the lessons of disruptive innovation to personal growth, she shows us how to pursue roles suited to our own strengths, to follow our own unique way of thinking and doing—and to dramatically increase our productivity, creativity, and happiness." – Susan Cain, NYT best-selling author of Quiet: The Power of Introverts in a World That Can't Stop Talking
"Wow! Disrupt Yourself wins the "plain English" award--which is to say I've seldom if ever read a better written business/career development book. The advice is compelling, clear-as-bell, research-based, and actionable. And it'll work as well for a forty-something as a twenty-something." – Tom Peters, bestselling author, In Search of Excellence
"Disrupt Yourself reads like a handbook for innovation: it shows the incredible value of recognizing what you are good at and finding unexpected ways to apply those strengths to the marketplace. The dramatic 'jumps' that Johnson encourages us to take truly form the basis of creativity and success." – Steve Wozniak, co-founder, Apple, Inc. and Chief Scientist, Primary Data
"A motivating, compelling case for shifting gears right when we've reached our peaks. Whitney Johnson not only explains the why and how, but cheers us on along the way to greater meaning, learning, and innovation." – Adam Grant, Wharton professor and NYT best-selling author of Give and Take
"If you have gone through your career thinking that it is smarter and safer to "stick with what you know," get ready to have Whitney Johnson change your mind. Often what we already know can get in the way of what we don't know. Disrupt Yourself will inspire you to make the jump onto new learning curves, innovate, and stay at the top of your game." – Liz Wiseman, best-selling author of Multipliers and Rookie Smarts
"You already know that to have the career—and life—you always wanted, you'll need to be innovative, take risks, and spot and seize opportunities. Luckily, Whitney Johnson knows exactly how disruptive innovation gets done, and her brilliant new book is the how-to guide you've been waiting for." – Dr. Heidi Grant Halvorson, Columbia Business School, best-selling author of Nine Things Successful People Do Differently and No One Understands You and What to Do About It
"Whitney Johnson's Disrupt Yourself provides clear guidance that will help you both boost your career and become a driving force in market evolution. Her innovative approach proves that staying true to your own strengths can be groundbreaking, and often take you further than following established paths. I highly recommend this book." – Michelle McKenna-Doyle, Senior VP, CIO, National Football League
"Leaders at all levels are often reminded that continuous learning and personal growth are key to successful careers and meaningful lives. In Disrupt Yourself, Whitney Johnson shows how to pursue them, purposefully building a foundation to keep oneself and others learning, changing, and thriving in the long term." – Gianpiero Petriglieri, Associate Professor of Organizational Behaviour, INSEAD
Bibliomotion is a book publishing house designed for the new publishing landscape. While many publishers work to retrofit old processes for new realities, Bibliomotion was founded by book-industry veterans who believe the best approach is a fresh one – one that focuses on empowering authors and serving readers above all else. Moving away from the top-down model that has dominated the publishing process for years, we give each member of the team – including the author – a seat at the table from the very beginning and in doing so, work side-by-side to launch and sell the best content possible, making it available in a variety of forms.