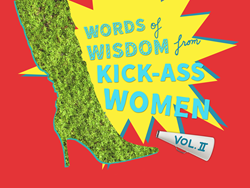 Chicago, IL (PRWEB) October 05, 2015
CBD Marketing (CBD), a women-owned agency located in Chicago, today announced the release of Words of Wisdom from Kick-Ass Women,Vol. II, the highly anticipated second edition of its award-winning 2013 e-book of the same name offering motivational quotes from a variety of nationally recognized female leaders.
Like its predecessor, this book is free and available for online sharing. It features beautifully crafted original artwork designed by CBD's internationally acclaimed design team.
Twenty-one notable and accomplished women in business, government, technology and education were asked to share a valuable lesson learned from taking a personal or professional risk. The result is an anthology of strikingly illustrated insights about how risk and reward are often linked; that even when things don't work out, the experience provides something of greater value—the opportunity to become an even better leader.
Contributors to Words of Wisdom from Kick-Ass Women, Vol. II include:

Allison Boersma, CFO, COO and VP Finance, Riddell Sports
Kim Bradley, VP and General Manager, Comcast Spotlight Chicago
Kathy Button Bell, VP and CMO, Emerson
Rachel Cowen, Partner, DLA Piper
Ana Dutra, President and CEO, The Executives' Club of Chicago
Jennie Fields, Novelist, Creative Director, Copywriter and Strategist, Jennie Fields Creative and Penguin Group USA
Mara Hauser, Community Founder and CEO, 25N Coworking
Elizabeth Jacobs, VP, Marketing, Intermatic
Elaine Maimon, President, Governors State University
Linda McGill-Boasmond, President, Cedar Concepts Corporation
Linda McGovern, SVP, Global Marketing, USG Corp.
Jamie Migdal, CEO and Founder, FetchFind and CanineLink; Host, Pet Life Radio
Mary Paskell, Corporate Health Services Consultant, Corporate and Executive Health, Northwestern Medical Group
Penny Pennington, Principal, Edward Jones
Toni Preckwinkle, President, Cook County Board of Commissioners, Cook County Government
Jill Salzman, Founder, The Founding Moms; Co-Founder, The Founding Kit; Co-Host, The Breaking Down Your Business Podcast
Amy Stewart Smith, Director of Executive Development, Kellogg School of Management
Erica Swerdlow, U.S. EVP, Burson-Marsteller
Genevieve Thiers, Founder, SitterCity.com, ContactKarma.com and OperaModa.com
Janet Viane, CEO, Evoke Productions; VP, Marketing and Digital Operations, Sears Holdings
Leslie Vickrey, CEO and Founder, ClearEdge Marketing; Co-Founder, ARA
"CBD created Words of Wisdom from Kick-Ass Women, Vol. II to continue celebrating female empowerment and the idea that mentoring and passing on what we've learned is integral to our roles as women leaders," said Lori Colman, CBD's Founding Partner and Co-CEO. "The anecdotes in this edition focus on the importance of taking risks—an often frightening, yet integral, part of a woman's journey."
Co-CEO Liz Brohan added, "As women business owners, Lori and I have learned so many valuable lessons from the experiences involved with taking risks. We're certain that the advice offered by all of the accomplished women in this e-book will embolden younger generations to become even stronger female leaders."
About CBD Marketing: CBD Marketing is an award-winning, creative, integrated marketing agency located in Chicago. National and global clients in manufacturing, energy, food, building products, education, retail and other industries count on CBD to Market What's Meaningful, building more intimate and profitable relationships in emotional and rational ways.
Contact:
Julie Steinmetz
CBD Marketing
jsteinmetz(at)cbdmarketing(dot)com
312-661-1050