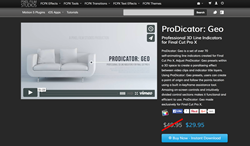 This new ProDicator is a perfect addition to any FCPX Effects Collection.
Aliso Viejo, CA (PRWEB) October 06, 2015
ProDicator Geo is a set of over 70 self-animating line indicators created for Final Cut Pro X. Users adjust ProDicator Geo presets within a 3D space to create a parallaxing effect between video clips and indicator title layers. Using ProDicator Geo presets, users can create a point of origin and follow the points location using a built in-keyframe assistance tool. Amazing on-screen controls and intuitively divided control sections makes it functional and efficient to use. ProDicator Geo is made exclusively for Final Cut Pro X.
ProDicator Geo features over 70 self-animating presets with stylized geometric animations and designs. Use on-screen controls to place indicators in 3D space and parallax to create the perfect 3D shot. Users can choose from a variety of preset categories such as bars, shapes, pointers, and drop zones.
Using intuitive on-screen controls, Final Cut Pro X users can add extra dimension to the shots using ProDicator Geo.
ProDicator Geo emphasizes a simplistic, geometric design that complements productions of any style.
ProDicator Geo is very easy to use inside Final Cut Pro X. To use, just drag and drop a preset into the FCPX timeline. Next, stylize the text and customize bar, shape, and pointer elements of the preset using the controls in the inspector window. ProDicator Geo automatically animates in and out of the scene at a set speed. Editing videos has never been easier using Pixel Film Studios plugins.
Established in 2006, Aliso Viejo, California-based Pixel Film Studios is an innovative developer of visual effects tools for the post-production and broadcast community. Their products are integrated with popular non-linear editing and compositing products from Apple FCPX. Apple, the Apple logo, Mac OS X, and Macintosh are registered trademarks of Apple Inc. in the U.S. and/or other countries. All other trademarks and trade names are the property of their respective owners.