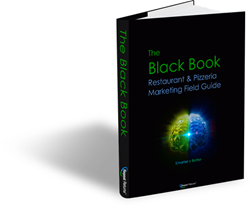 This no-charge release and the all-new digital marketing update is exactly what independent pizzeria owners need at precisely the right time. - PMQ Magazine
Las Vegas, NV (PRWEB) October 08, 2015
Restaurant marketing consultant Kamron Karington is releasing the 231 page Black Book Restaurant & Pizzeria Marketing Manual to all restaurant and pizzeria owners for complimentary download starting Oct 8th.
Independent owners can visit repeatreturns.com/blackbook to download the Black Book including an all-new digital marketing section.
Mr. Karington wrote the Black Book based on the experience gained raising his own pizzeria sales from $12,000 to $149,000 a month. Since then, independents have used the Black Book to increase sales through more effective marketing. Previously sold in a system priced at $597 — the Black Book will now be available to any restaurant owner at no charge.
"Independents are facing new, tougher challenges," Karington says, referencing the new section. "The principles still apply and technology can help fight the digital marketing advantage of the largest restaurant conglomerates, the never ending minimum wage hikes and a flat economy."
A recent one-week release to pizzeria owners sponsored by PMQ Magazine highlighted the need for wider distribution to all restaurant owners looking for fresh restaurant marketing ideas.
This release is part of the campaign launched earlier this year by Karington's company, Repeat Returns, to modernize independent restauranteurs' marketing. "This group of owners is the largest employer in the country and deserves a better chance to survive. I'm happy to take part in strengthening our industry."
Restaurant and pizzeria owners can download a digital copy of the Black Book now by visiting repeatreturns.com/blackbook.
About Repeat Returns
Repeat Returns makes big data marketing available to small restaurant & pizzeria owners worldwide. For more information on Repeat Returns and their fully integrated POS marketing solution visit: http://www.repeatreturns.com.