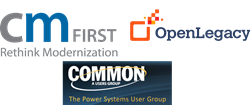 Mark O'Brien said, "The IBM i legacy modernization initiative can be tailored to meet specific company requirements, helping reduce technical debt, speed movement to web and mobile and more."
Austin, TX (PRWEB) October 06, 2015
CM First's Business Development Manager, Mark O'Brien, will join CM First's newest partner, OpenLegacy at Common 2015, the annual conference celebrating all things IBM i. Founded in 1960, Common is a not-for-profit advocacy, education and networking group initially dedicated to supporting the large IBM i community. More recently, they have extended their coverage to add all IBM Power systems including IBM i, AIX and Linux. IBM Common is the largest Power System organization with a membership of 23,000 technologists. This year's conference is being held October 5-7 in Ft. Lauderdale, FL. Learn more at: http://www.common.org/index.php/fall-conference-and-expo.html
For many IBM i customers, modernization of 20th century, legacy applications is a must. The Common conference offers an opportunity to learn from peers and speak with vendors about modernization challenges. For CM First, the conference offers a great opportunity to meet with existing and potential customers.
"CM First offers a proven and expedited path to modernization," said Mark O'Brien. "The IBM I legacy modernization initiative can be tailored to meet specific company requirements, helping reduce technical debt, speed movement to web and mobile and even make Cloud and Big Data a reality."
Open Legacy has a booth in the heart of the Expo Center and CM First will be there to support the team. The synergy between OpenLegacy's solution and the CM First's IBM i legacy modernization offering is clear. OpenLegacy uses a rapid, API-based approach to delivering connections between almost any legacy system, opening up new business opportunities with much less coding required. See the complete offering at: http://openlegacy.com/
"APIs are a powerful tool in modernization," said O'Brien. "As a reseller of the OpenLegacy solution, CM First can enhance the already-strong modernization story for RPG, COBOL and CA 2E (SYNON) applications."
To learn more about the CM First modernization story, visit:
http://www.cmfirstgroup.com/initiatives/application-modernization/
Join CM First and OpenLegacy at Common this year and in the years to come.
About CM First Group
CM First is a global software and services company established in 1999 with a focus on modernizing applications, managing technical debt and the agile development of enterprise apps. Delivery areas include; migrations of software code, databases and IBM hardware, custom app, architecture and API development, mobility solutions and knowledge transfer. CM First works with hundreds of IBM and CA Technologies business-critical systems worldwide, with numerous reference customers covering industries as diverse as logistics, travel, insurance, food processing and oil and gas construction.
Contacts
Europe Headquarters
+41 41 508 01 05
info(at)cmfirstgroup(dot)com
North America Headquarters
+1-512-600-1484
+1-888-866-6179
infotech(at)cmfirstgroup(dot)com
France
+33 608 504 285
infofrance(at)cmfirstgroup(dot)com
Copyright © CM First. All rights reserved. All trademarks, trade names, service marks and logos referenced herein belong to their respective companies.