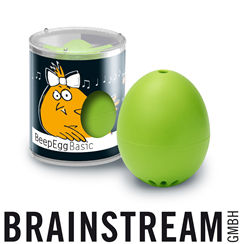 We are positive that Americans will embrace our BeepEgg, as it is a problem-solver, but most likely also causes a laugh, which makes it a great gift.
Springfield, MO (PRWEB) October 08, 2015
Brainstream is about to make a splash into the US. Headquartered in Oerlinghausen, Germany and known for their fun and functional gadgets, their featured product, the BeepEgg, is sure to be a favorite for egg-lovers everywhere.
For years, those particular about boiling eggs have had to come up with their own systems for ensuring they pull their eggs out at the optimal cook time. With the BeepEgg, that process just got a lot easier. Simply store it with your eggs and drop it in with your other eggs at the start of the boiling process. Then, all you have to do is wait for the BeepEgg to start singing when it reaches different levels of hardness. For the BeepEgg Basic, "Oh Susanna" will play when it reaches a soft-boiled stage, "Take Me Out to the Ballgame" sounds for a medium-boil, and finally, "Hail Hail All Gangs Are Here" will inform you when it has reached a hard boil.
It's fun, but also quite functional, as it is more than just a timer. It constantly measures the temperature and knows at which stage the eggs are at. You can use it in the mountains as well as on sea level. You can boil one or twenty eggs at a time. These parameters do influence the cooking time, but BeepEgg always knows the exact stage of the egg.
There are other versions of the egg that will be introduced over time from a Disco theme to Patriotic, each with unique tunes and a different look and feel. But the result is the same. BeepEgg guarantees perfectly boiled eggs. The precision and humor make it an outstanding gift for a number of occasions, including the upcoming holidays.
Brainstream has recently partnered with Tryazon, which is going to be introducing the BeepEgg throughout their home parties platform in early October. 200 host participants will be given the opportunity to get the product for free to showcase at a home party in mid-November. Those who would like to apply for an opportunity to participate can sign up at: http://www.tryazon.com/
According to Brainstream General Manager over Marketing & Sales, Markus Gabriel, this introduction to the US market is an important step for the company's future. "We certainly always aimed at hitting the US market with our innovative products, as it is a key market and a great platform for unique gadgets. We have now found a setup that allowed us to give it a shot and the feedback of the market was great. We are positive that Americans will embrace our BeepEgg, as it is a problem-solver, but most likely also causes a laugh, which makes it a great gift."