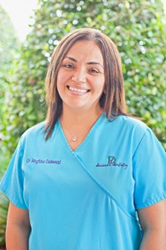 Houston, TX (PRWEB) October 05, 2015
Dr. Meghna Dassani recognizes Dental Hygiene Month by encouraging patients with sensitive teeth and receding gums in Houston, TX, to inquire if they qualify for the Chao Pinhole® Surgical Technique. There is a link between gum disease and gum recession, and Dr. Dassani urges patients to treat signs of gum recession during the early stages, before the condition develops into something more detrimental.
October is Dental Hygiene Month, and Dr. Dassani honors the occasion by offering the Chao® Pinhole Surgical Technique to patients who have receding gums in Houston, TX. Research and studies distinguish a link between gum recession and periodontal disease, with early treatment highly recommended for the best outcome. When gum recession is left untreated, it can not only develop into a more serious condition, but it may also cause immediate side effects such as sensitive teeth and reduced self-esteem. The Chao Pinhole® Surgical Technique may reduce the discomfort and embarrassment associated with gum recession by moving the gums over a greater surface area of the teeth, reducing the capacity of previously-receded areas. The procedure can be completed very quickly, causing minimal discomfort and trauma to the gum tissue, unlike other common methods of treatment.
Dr. Dassani performs the Chao Pinhole® Surgical Technique by applying local anesthetic to the treatment area, then using a small tool, a hole the size of a pinpoint is precisely placed within the gums. The pinhole is utilized as an entry-point to insert small tools into the area, carefully loosening the gum tissue from the surface of the tooth, adjusting the gums downward or upward accordingly. Once the surface of the tooth is covered sufficiently to reduce the appearance of recession, the procedure is completed and the patient is provided instructions for proper care of the area for the healing period. Unlike other common treatment methods for gum recession, it is not a necessity to have gum tissue grafted into the receded areas with the Chao Pinhole® Surgical Technique, allowing for a more expedited recovery time.
Those who wish to improve their oral health by receiving treatment for sensitive teeth and receding gums in Houston, TX, are invited to meet with Dr. Dassani during Dental Hygiene Month. Upon examining each patient, Dr. Dassani can assess whether the Chao Pinhole® Surgical Technique may be suited for specified patient needs.
About The Doctor
Dr. Dassani is a gentle, caring dentist who uses the most advanced materials & procedures available. She practices comfortable, health-centered dentistry with a strong emphasis on getting to know each of her patients. In addition to her technical efficiency and skill, Dr. Dassani is a careful listener & will explain before treatment what options best work for your individual needs. In her spare time, Dr. Dassani enjoys reading, scuba diving, swimming and working in her herb and vegetable garden. Dassani received her doctorate from the Boston University Goldman School of Dentistry. She has since completed many continuing education courses, including those in Misch Implant Institute Invisalign®, and Spear Center. Dr. Dassani is a member of International Congress of Oral Implantologists, the Academy of General Dentistry, Academy of General Dentistry, and the American Dental Association. Dr. Dassani was born & raised in Mumbai, India. When she married Rahul, they agreed the Clear Lake Area would be a wonderful place to work & raise their family. Dr. Dassani loves being outdoors with her husband & two young girls and can be found exploring the outdoors on most Saturday mornings. They are excited to be a part of the community. She is an avid learner & loves seeing a variety of people from every walk of life in the practice. She looks forward to your visit & to showing you the current ways dentistry can improve your life. To learn more about the services offered at Dassani Dentistry, please visit the website at http://www.dassanidentistry.com or call (281) 488-4617.