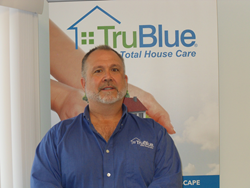 Brunswick, NC (PRWEB) October 05, 2015
TruBlue Total House Care, a residential and commercial cleaning company, has teamed up with Cleaning for a Reason to help women battling cancer by cleaning their homes at no charge.
TruBlue Total House Care will be cleaning at least two homes per month for four consecutive months at no charge as part of this partnership. The only requirement is that the homes be within the company's existing service areas of Boiling Spring Lakes, Ocean Isle Beach, Southport, Shallotte, Leland and the surrounding communities.
TruBlue Owner Robert Bernish said his involvement with Cleaning for a Reason, an international non-profit, was inspired by his late mother.
"My dear mother passed this year, and as the fog of grief began to dissipate, I came to recognize how lucky I was to have been able to be with and help take care of her at the end. My mother was an incredibly selfless woman who was bent on going without herself so that others could have. She instilled in me an enormous sense of service and sacrifice, and I wanted to create a way that I could honor her memory by helping others in our community. So when I learned about Cleaning for a Reason and the good work that they do, I was instantly drawn to the opportunity to partner up with them," he said
TruBlue gives property owners one convenient and affordable solution for all of their house care needs. A house care manager will take care of the entire home, inside and out, from cleaning services, household repairs, yard work — even emergency repairs and seasonal projects – and all services are customized to meet each client's needs and budget. The goal is to eliminate the worries, hassles, and headaches of home maintenance and to provide full-service, trustworthy house care services to fit any budget. For more information about how TruBlue can make a difference in your life, call 910-315-0027, email RBernish(at)TruBlueHouseCare(dot)com or visit http://www.TruBlueBrunswick.com.
Cleaning for a Reason strives to aid women who are battling cancer by teaming up with professional cleaning companies across the United States and Canada. Together, these two forces offer free house cleaning to meet the needs of women, and since 2006, have donated more than $5.2 million in free services, helping more than 18,000 women with cancer. Based in Lewisville, TX, Cleaning for a Reason works with more than 1,200 residential cleaning companies and continues to grow and gain support. To learn more about Cleaning for a Reason and to apply for free house cleaning, visit http://www.CleaningForAReason.org.