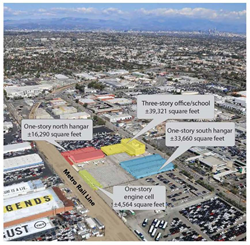 Los Angeles, CA (PRWEB) October 07, 2015
Hackman Capital Partners, LLC, a Los-Angeles-based real estate investment firm, confirmed today the acquisition of 8911 Aviation Boulevard, in Inglewood, California. The four-building campus totals approximately 93,835 square feet. The property is located in the Los Angeles International Airport (LAX) submarket, less than two miles from the airport and the 405 Freeway, and it is 100% occupied by Spartan College of Aeronautics and Technology. The school uses the campus for its aeronautics and technology training program, which is largely focused on aircraft maintenance and repair.
A leading provider of aviation technology education, Spartan College and its predecessors have leased the property for more than 40 years. The site features a three-story office building (36,321± SF) for administrative office and classroom use, two hangars (33,660± SF and 16,290± SF) for demonstrations, workshops and seminars, and a small building (4,564± SF) for classes and engine demonstrations.
The property is situated near another recent HCP-sponsored acquisition at 9000 and 9010 Bellanca Avenue, a few blocks from the new Metro rail installation and in the same micro pocket that includes rental car companies, such as Hetz, Enterprise, National and Alamo.
"We're thrilled to expand our toehold in the LAX submarket," said Michael Hackman, founder and CEO of Hackman Capital Partners. According to Hackman, the Aviation Boulevard property will be managed from the company's Los Angeles office. "We look forward to building a strong relationship with Spartan College," Hackman continued.
Founded in 1986, Hackman Capital Partners owns, through affiliated entities, more than 200 properties totaling approximately 25 million square feet and representing more than $1 billion in assets. More than 1.6 million square feet of those properties are located in California.
For more information about Hackman Capital Partners, visit http://www.hackmancapital.com.