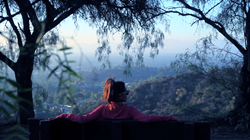 Los Angeles, CA (PRWEB) October 06, 2015
This year, the one-night ceremony Presented by NewFilmmakers LA will showcase 21 finalist filmmakers who were challenged to create a film under 5 minutes that highlights Los Angeles. The finalists are competing for a variety of prizes, the Grand Prize being a generous production package from Alternative Rentals. Additional prizes include film permits from Film LA, Movie Magic Budgeting 7 and Movie Magic Scheduling, FilmLA permits, Mole Richardson lighting packages, Hollywood Casting and Film green screen sound stage rentals, and $2500 in cash prizes. Guests of the event will enjoy Los Angeles's famous Pink's Hot Dogs and a full hosted bar, sponsored in part by Tito's Handmade Vodka, Don Q Rum, Karl Strauss, and Monster Energy Drink.
Co-presented by KTLA, the event will be hosted by celebrity comedian Guy Branum and there will be a special guest musical performance by Danity Kane's Dawn Richard. Notable presenters for the evening include Alex Russell ("Unbroken"), Patrick Fabian ("Better Call Saul"), Valenzia Algarin (Adult Swim's "Black Jesus"), LA City Councilmember David Ryu, Daniel Halden, Hollywood Field Deputy for LA City Councilmember Mitch O'Farrell and Line 204's CEO Alton Butler. The event DJ and music curator will be popular Jason Kramer from KCRW.
Judges for the 2015 On Location indie film program include Catherine Rotunno (Sony Pictures Entertainment), Abdullah Hall (Paramount Pictures), John Im (Warner Bros.), and NewFilmmakers very own Larry Laboe (Executive Director), Susie Kim (Artistic Director), and Rosalind Helfand (CFO).
Selected finalists for the 2015 On Location: The Los Angeles Video Project include (in screening order):

A Day In: Los Angeles (Director Cody Autterson & Andrew Schneider)
Sister Day (Director Alexandra Cuerdo)
Stardust (Director Christine Irons)
LA24in24 (Director Ian Rutherford)
Love LA (Director Riley Beres & Shelly Beres)
Valley Relics (Director Mark DiNatale)
Marina del Rey (Director Kiki Vasilescu)
Moments in the Sun (Director Gregory JM Kasunich)
The Struggle to Exist (Director Blass De Blas)
Opening Scene (Director Felix Martiz)
Citizen of the World (Director Bogdan Yansen)
It Was a Cheat Day (Director Michael Greenwood)
The Wisdom Tree (Director Megan Louise Berndt)
What's Your L.A? (Director Diana K. Cabuto)
Snowflake (Director Christine Irons)
The Invisibles (Director Edgar Alvarez AKA Alter Eddy)
Venice Beach House (Director Gregg McAllister)
Change of Heart (Director Jesse Steccato & Josh Silfen)
Dream Has No Friend (Director Lorena Endara)
Abreaction (Director Felix Martiz & Jesús Guevara)
It's Vine by Me (Director Kyle McAuley)
NewFilmmakers LA Film Festival ON LOCATION
Saturday, October 10, 2015
Hollywood Center Studios
1040 N. Las Palmas Avenue
Hollywood, California 90038
More information and tickets are available at the official website:
http://www.newfilmmakersla.com/onlocation/
The organizers include: Produced by NFMLA with Executive Producers Susie Kim, Rosalind Helfand and Larry Laboe. Production Management by Alejandro Echevarria. Visual Communications and Digital Presence by Philip Huynh. Publicity by EF Public Relations. Audio/Visuals by ATS Audio Visuals.
Sponsors include: KTLA, Hollywood Center Studios, Alternative Camera Rentals, Karl Strauss Brewing Company, Tito's Vodka, Monster Energy Drink and Hansens Soda, EF Public Relations, Pink's Hot Dogs, FilmLA, Hollywood Chamber of Commerce Community Foundation, SAG-AFTRA, LA City Councilmember Mitch O'Farrell, Line 204, AT&T Center, the Hollywood Foreign Press Association (HFPA), NFMLA Board Member and Filmmaker Demian Lichtenstein, AT&T Center, ShopHouse Southeast Asian Kitchen, Mole Richardson Company, Studio Depot, Flowers in Beverly Hills, Sony Pictures Entertainment, Line 204, Tentsquare, Entertainment Partners, Newport Beach International Film Festival, We Make Movies, Santa Clarita Film Office, American Entertainment Insurance, Round Island Media, Creative Handbook, Downtown LA ArtWalk, Assemblymember Ian C. Calderon, ATS Audio Visual, Alliance of Women Directors, BEST Club, CA Film Commission, Japan Film Society, NALIP, Variety 411, Sunset Gower Studios, LAPPG, WIF LA, Backstage, LA City Mayor Eric Garcetti, Disarray Magazine, Film West Hollywood, MovieMaker Magazine, Hollywood Arts Council, Gallery Row, Production Hub, CreatorUp, BritWeek, Shorts HD, Hollywood Casting and Film, Barrow's Intense Ginger, Death's Door Spirits, Don Q Rum, Columbia College Hollywood, Elon University, Occidental College, Emerson College, New York Film Academy, LA Film School, UCLA TFT Alumni Affairs, UCLA GSA, AFI and Columbia College Hollywood.
About NewFilmmakers Los Angeles (NFMLA)
NewFilmmakers LA (NFMLA) was founded in 2007 and has since screened over 1000+ films from over 59 countries. NFMLA boasts over 60,000 supporters locally. The organization provides a forum where filmmakers can be recognized with title supporters Sony Pictures Entertainment, TheWrap, LA Weekly, SAG-AFTRA and Variety Magazine.