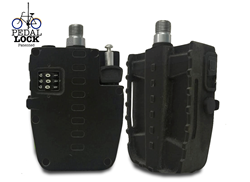 We envision pedals being as smart as your IPhone one day. Ryan Hensley - CEO
San Fransisco, CA (PRWEB) October 06, 2015
Traditional locks are time-consuming and easy to forget and lose. With all the fuss it is no surprise that the number one reason bikes are stolen is because bikes are simply left unlocked. Pedal Lock finally provides a lock that makes sense on those quick stops when people don't want to go through the traditional locking hassle.
Statistically, the number one location for bike theft in the United States is outside of convenience stores. People don't like going through the whole locking process, especially when they are just stepping away for a couple minutes. The Pedal Lock is an efficient solution to this dilemma. With the Pedal Lock bike riders simply pull it out and lock it up. That's when the alarm sets. Two steps and done. After they are finished, they just unlock it and it zips back in automatically. One step and done.
Pedal Lock also works well as a great security addition in big cities, or when riders leave their bike alone for long periods of time, where experts suggest using multiple lock combinations.
The Pedal Lock featured in the video and pictures is just a prototype. They plan on adding a red alarm indicator light, grip on both sides, legally required reflectors, water resistant casing, combo cover, and more. If they reach their stretch goals, they are also working to add text notification, and pedal powered battery charging.
Pedal Lock has the goal of making Pedal Locks standard on bikes like car alarms on cars. Manufacturers for Pedal Lock are ready to go, but they are seeking $65,000 in backing on Kickstarter. At the time this was written Pedal Lock has already raised 31% of goal after just 5 days, and they are ranked in the top 3% of tech projects on Kickstarter already.