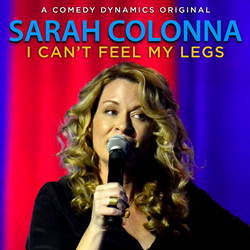 She isn't afraid to get really honest, which is why so many people can't get enough of her.
Los Angeles, CA (PRWEB) October 07, 2015
New York Times Best Seller and Chelsea Lately regular, Sarah Colonna, has some new stories to tell with her sharp whit and refreshing honesty. From how to get out of jury duty to online dating, Colonna is as cool and hilarious as you'd expect in her first hour-long comedy special. Filmed live in Los Angeles, CA.
Colonna is a former writer and regular round table guest on Chelsea Lately. She was part of the ensemble cast and helped produce E!'s network television series After Lately. She also appeared on several television shows including "Battle Creek," "Scare Tactics" and "United States of Tara." She recently co-starred in Michael Rosenbaum's movie "Back in the Day" and appeared in Diablo Cody's "Paradise." Her first book, Life As I Blow It hit number 5 on the New York Times Bestseller List in 2012 and her second book, Has Anyone Seen My Pants? was released this March to tremendous reviews. She continues to headline stand-up comedy shows nationwide.
"Colonna is as real as it gets," says Brian Volk-Weiss, President of Comedy Dynamics. "She isn't afraid to get really honest, which is why so many people can't get enough of her."
The album will be available October 23, 2015.
Sarah Colonna: I Can't Feel My Legs was directed by Jay Karas, and written and performed by Sarah Colonna. Sarah Colonna, Abbey Sibucao-MacDonald, Cisco Henson, Jack Vaughn, and Brian Volk-Weiss executive produced. Kieran Dotti is production supervisor for Comedy Dynamics.
Comedy Dynamics is the largest independent comedy production and distribution company in North America, specializing in a range of established and emerging comedic talent including Aziz Ansari, Jim Gaffigan, Bill Burr, Chelsea Peretti, Katt Williams and many more. The Comedy Dynamics catalog is available on most video streaming platforms including, but not limited to: Hulu, Roku, iOS, Amazon, and Android.