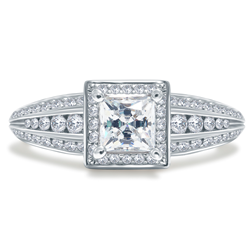 We chose to work with Harout because of his amazing sense of classic style
New York, NY (PRWEB) October 07, 2015
Milano jewelry is pleased to announce a permanent partnership with renowned bridal jewelry designer Harout R.
Known across the bridal jewelry industry as the, "world's premiere jewelry designer," work with the designer will be marketed as the Harout R. bridal line and features unique and original pieces derived from inspirations from nature including blossoming flowers. The motivation behind each piece is to create a feeling of, "never having been seen before."
"Harout R's bridals are made with extreme perfection and detail," said Akshie Shah of Milano Jewelry, "We chose to work with Harout because of his amazing sense of classic style with intricate details added to it. We believe a marriage should be forever, just like his timeless designs which will never go out of fashion."
In addition to their prestigious bridal line, Milano is also excited to announce a series of birthstone jewelry debuting on their website now. Each month a new stone will be featured in a series of unique and inspiring pieces. The website is also featuring work from a new "designer of the month" each month.
Items from both the bridal and birthstone collections are available for viewing and purchase now. Customers can sign up to receive emails alerting them to new looks as well as coupons and last minute sales by visiting the shopmilano.com website and providing their email address.
About Milano
Milano is the online platform for Milano Diamond Gallery, a retailer of fine jewelry that boasts 26 store locations in the Caribbean, Alaska and Mexico, and over 20 years of experience in the industry. Milano provides shoppers with affordable luxury jewelry at highly competitive prices, with measures such as featured private sales and free shipping to keep pricing even more affordable. Milano gives customers one of the easiest online jewelry shopping experiences available with an uncluttered, informative website that makes it easy for shoppers to choose the perfect piece of jewelry. To learn more about Milano, please visit http://www.shopmilano.com.